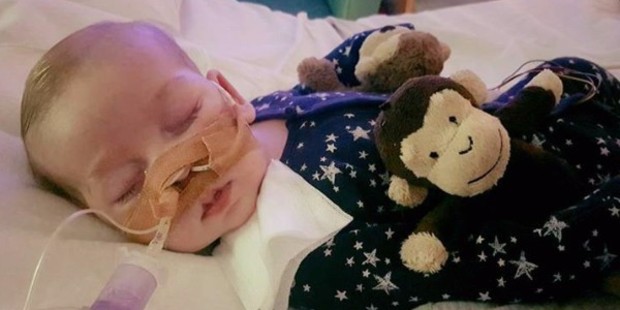 Connie Yates can't remember exactly how she and partner Chris Gard made the agonising journey from the High Court on Tuesday afternoon.
All she recalls is an usher handing her a box of tissues. Then an anguished, almost primal howl of "No!" from Chris as he slumped in agony in the seat next to her. Then relatives gently lifting her to her feet, and leading her, sobbing and stumbling, through the darkness of Court 47 and into the bright, spring sunshine outside.
Connie and Chris had just been told by a judge that it was time to allow their adorable, 8-month-old son Charlie to die. The judge had ruled, with the heaviest of hearts, that the baby's life support system should be withdrawn, says the Daily Mail.
Charlie was born with a type of mitochondrial depletion syndrome, known as RRM2B, which is so rare he is believed to be only the 16th sufferer in the world.
The condition, caused by one in a million faulty genes inherited from each of his parents, saps energy from his muscles, lungs and other organs. Currently, he is being kept alive on a ventilator at Great Ormond Street Hospital, in London, where Connie, 31, and Chris, 32, have been keeping a vigil by his bedside for the past six months.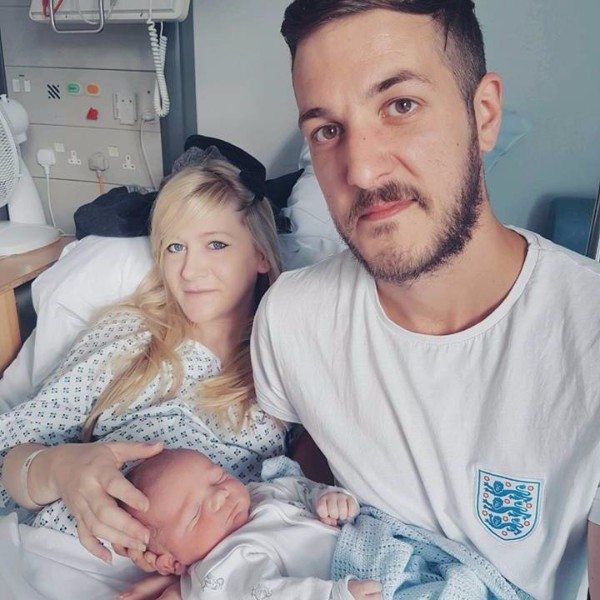 In their desperate search for hope, the couple had found a US doctor trialling a pioneering treatment and, last month, set about raising the £1.3 million ($2.3m) needed to transfer Charlie overseas.
However, this week, after hearing evidence from medical experts, High Court judge Mr Justice Francis ruled that in all likelihood Charlie had suffered severe and irreversible brain damage and there was little hope the treatment could achieve "anything positive for him".
Charlie, he said, should be allowed to die with dignity and it was time to let him go.
On hearing these final words, Connie says her first instinct was to get back to hospital and to cuddle her baby as soon as possible.
She remembers sitting silently in the back of a black cab with Chris, each of them in their own private hell, as they tried to comprehend that their child was, in her words "sentenced to death".
"That morning, as I do every morning, I'd dressed him in a clean outfit and kissed his pink cheeks. In that surreal moment, all I could think of was holding Charlie in my arms. Kissing his chubby little face, nuzzling my face in his silky hair, breathing in his special smell."
Back at Great Ormond Street Hospital, there was the now familiar walk through the reception area with its colourful chairs, down a corridor, through several sets of double doors and into the intensive care unit where Charlie has remained on life support. That was perhaps the longest walk of all.
"Maybe people were looking at us thinking, 'there's that couple, Charlie Gard's parents'," she says. "And I am sure by then all the staff on the unit must have known the verdict.
"But if they did, I didn't notice. All I could think of was getting back to Charlie's bedside. I saw him lying there, our beautiful son, and my heart broke.
"Someone pulled the curtains round us. Chris took the little stuffed monkey he carried into court every day - so we always had a little part of Charlie with us - out of his pocket and sat it next to Charlie's other monkey. He has two of them - so he was never without his special toy.
"That was the point Chris and I clung together and truly broke down. I told Charlie I was sorry that we'd let him down, that we hadn't managed to do enough."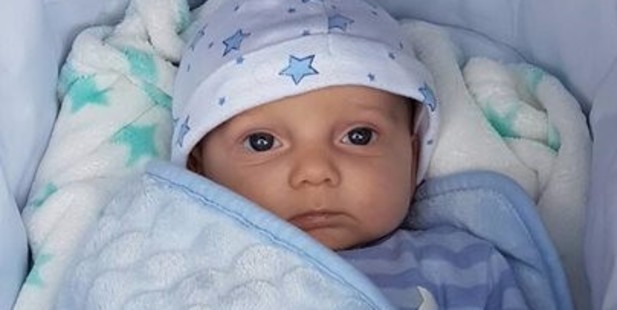 Connie believes - and she and Chris are both adamant on this - that on that day, like all others, their son knew his parents were there beside him.
The judge was told Charlie had been left severely brain damaged by his condition, but Connie insists a part of him still remains.
"We are his parents who have spent over 3000 hours with Charlie and we know him better than anyone," she says.
"We are absolutely convinced he is not in pain. When he feels our presence, he tries to open his eyes as much as he can, so we do not believe he is blind. Because we know our son, we do not believe Charlie has the structural brain damage doctors say he has.
"We know as parents, he does have a sleep/wake cycle. We can wake him up by tickling his feet. We can soothe him to sleep by stroking his head."
"If we thought there was absolutely no hope we would not have fought for this.
"But if there is even the slimmest chance of a treatment working, and the doctor in the US told us he believes there is, what loving parent would not take that chance?
"We have only ever wanted to improve Charlie's quality of life. We would never have sought this if we thought it would bring Charlie more pain. But why is it so different from a child with cancer having painful and distressing chemotherapy which might not work?
"Chemotherapy is known to cause serious side-effects but does that stop doctors from offering it? I defy any parent whose child has cancer not to try chemo even if it has the tiniest chance of success."
It is why, despite the verdict, both she and Chris want to fight on and if possible - something their lawyer is currently looking into - appeal Tuesday's ruling.
Right now, they simply cannot contemplate removing Charlie's life support or "preparing to say goodbye".
"When I think about willingly turning off Charlie's life support, with him dying in our arms, I cry uncontrollably. It's so hard because he is so stable - he is growing before our eyes. Only this week I had to order more Babygros in bigger sizes as he is thriving. Every day he looks more and more like Chris. He has chubby squeezable little legs, his hair needs to be combed more... Letting Charlie go is something we would have faced up to, would have prepared for and accepted, if we felt we'd exhausted all chances of treatment.
"We have never said we would want him to remain alive as he is right now, lying in a hospital bed. If the treatment didn't work or caused him pain then we would be the first to let our son die.
"To us that would be dying with dignity as we would have given him every chance. We would be letting Charlie die knowing we simply could not have done more.
"It is knowing there is something that could make him better, which we are simply not allowed to give him, which is so devastating.
"As loving parents who are putting our child first, I cannot put into words how heartbreaking it is to have our parental rights stripped away from us and to have decisions made about our child by strangers."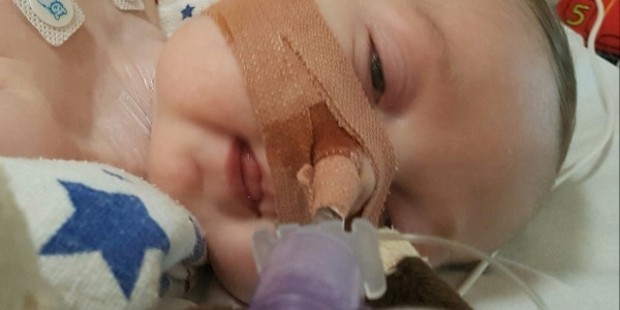 Connie, on maternity leave from her job as a carer for adults with severe learning difficulties and disabilities, adds: "I have also seen for myself how doctors and hospitals sometimes dismiss someone as having no chance of living for years or having much quality of life.
"And time and again I've seen those prognoses proved wrong. People I've cared for have outlived their prognosis, they have learned to do things professionals thought were impossible.
"Who are we to judge quality of life? I would say some disabled people are happier than able bodied people who seem to have it all. They don't have the pressures of a mortgage to pay like the rest of us - they live a simpler existence. Life is precious; the other option is no life at all."
The couple from South London were thrilled when they discovered that they were expecting Charlie.
"Chris says he is a special child who was sent to us," says Connie. "Some women say they see themselves having two or three children but I was never one of those. I used to wonder if I'd ever have a child because I always had a fear of being sick. So getting pregnant was a worry.
"But being pregnant with Charlie was a wonderful experience and carrying him made me stronger as a person."
Charlie was born a healthy 8 lb 3oz in August last year, and at first all seemed perfect. He began smiling and gurgling at six weeks, but two weeks later, the family's happy bubble was burst.
Despite being breastfed, he began choking and declining his feeds. He started to lose weight and strength and developed aspiration pneumonia - a lung infection caused by the inhalation of food or liquid. It was then he was transferred to Great Ormond Street Hospital, ending up in their intensive care unit.
Connie says: "When doctors gave us the diagnosis we had no idea it was something considered terminal. How could we? Just weeks ago we had a healthy, happy little baby.
"We were told there was a million to one chance that either of us would carry this faulty gene. This genetic condition came out of the blue. To go from being an ordinary couple having our first healthy baby to this, well..." Connie struggles to find the words.
They could not accept, however, that nothing could be done for Charlie. After spending every waking hour researching their son's condition, Connie found a treatment, known as nucleoside therapy, being trialled in the US.
"While much has been made about this treatment not having been tried on an animal or human with RRM2B it has been successfully trialled and is working on those people with TK2, a similar type of mitochondrial condition - with the only reported side-effect being diarrhoea."
She says: "One little boy, who has TK2 and was the first to try nucleoside therapy in America, is now aged 6. Although still ventilated, he is well enough to enjoy trips to the movies and zoo.
"He grows stronger every day. His parents say they took the same slim chance and have absolutely no regrets."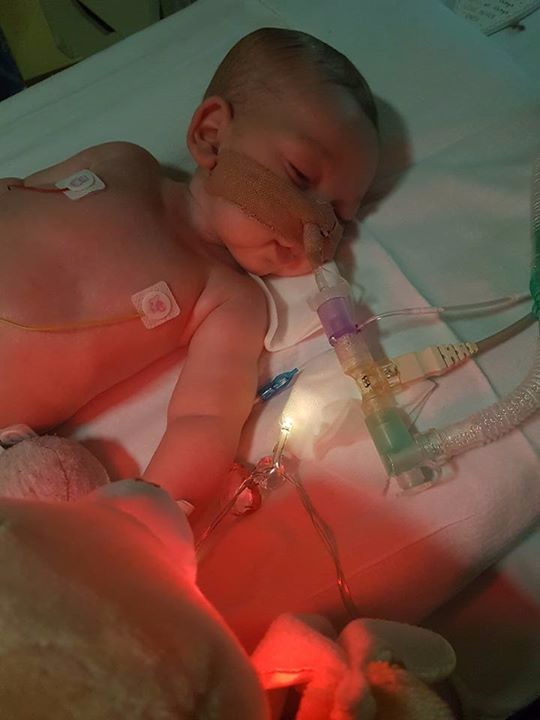 When it was suggested back in December, Great Ormond Street was reluctant to try the treatment in the UK - which would involve giving Charlie the nucleoside drug in his milk - because it was untested and considered unlikely to be of any benefit to a child with Charlie's severe problems.
Connie and Chris, a postman, were delighted, therefore, when the doctor said he would be willing to treat Charlie in America.
The couple set about raising the £1.3 million needed to transfer their son to the US in a specially adapted medical plane, followed by two months of treatment.
"The US doctor said this was long enough to see if the treatment would work. We knew it was experimental and did not want to be a burden on the NHS," says Connie.
"Knowing the public were so supportive was amazing. I cannot explain how uplifting the messages have been from kind people all over the world.
"Many tell their own stories of triumph over tragedy - families whose loved ones came out of a coma when doctors believed they were brain dead, people told there was no hope only to find a treatment after all. It was those messages that helped us."
The pair were also hugely supported by their own family members who ran an astonishingly successful social media campaign. "Sometimes we'd check the 'gofundme' page and it would go up by thousands within minutes. We can never thank everyone who donated to the fund enough for giving us the hope," she says.
The money is - pending an appeal - still earmarked to take Charlie to the US. The couple have funded their legal expenses themselves, and their barrister acted for free. If the worst happens they say they will be setting up a charity in Charlie's name.
"At the moment though the money is only for Charlie's treatment," says Connie firmly.
They are unable to look further into the future.
"The strain we've been under as a couple has been immense," admits Connie. "We've lived in parents' accommodation at the hospital. We haven't been to our flat since Charlie was admitted in October last year and I can't recall the last time Chris and I did anything normal such as watch TV.
"I am sure lots of couples would split up under such strain - they might have found they couldn't agree on a course of action. Chris and I have always agreed and we have both made all the decisions together as a couple.
"We are also bonded by the fact that we have gone through this nightmare together. He is the only one who knows how I can possibly feel as a person, and vice versa."
They now face an agonising wait of up to three weeks to see if an appeal is going to be possible. During that time Charlie will remain on life support at Great Ormond Street with his parents spending as much time with him as possible, sitting by his bedside, telling them they love him.
They are hoping there is still a way of getting Charlie to the US. Someone has set up a petition in a bid to overturn the judge's decision. The money for the treatment is safely in Charlie's bank account. He has been granted a passport just in case.
"This isn't about us being selfish, keeping him alive because we can't bear to let him go," Connie says.
"It is because if we did not fight for this chance, we will have to live with the 'what if' for ever. It's that 'what if' which for us would be so unbearable."