Dining Out
Mondays have a largely gluten-free and vegan menu. The vegetable curry and nectarine, feta and walnut salad are winners. While the pulled jackfruit tacos topped with guacamole, chipotle and chimichurri will not leave you craving meat. Although the service left a lot to be desired.
See the full review over on viva.co.nz.
• THE CULT PROJECT, Auckland CBD
Kim Knight had almost nothing bad to say about The Cult Project with big claims that will leave you interested. "Step away from the Bluff oyster, move immediately to The Cult Project and order a mussel." The Cult Project pops up at Racket Bar from Tuesdays to Thursdays, repurposing the space and saving the environment with its no-waste ethos.
"From head to tail, The Cult Project is saving the planet in the yummiest possible manner."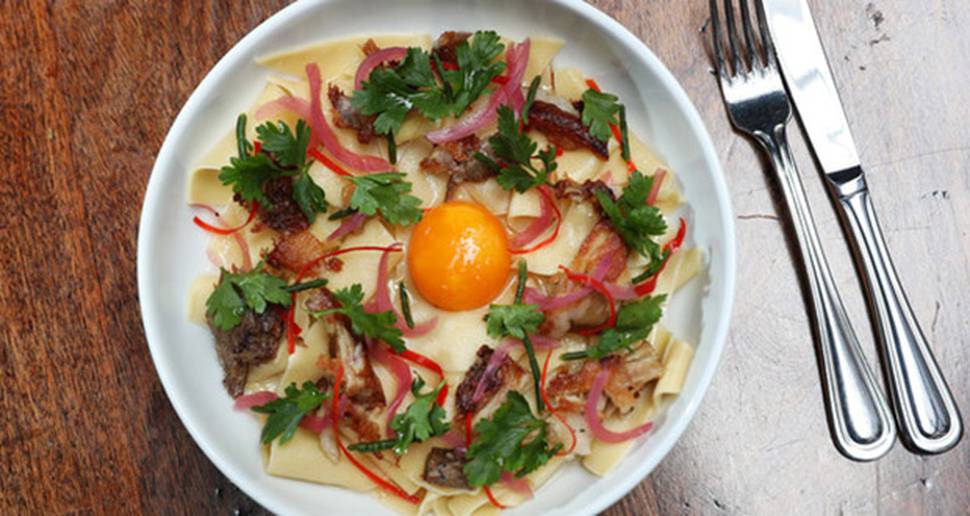 See the full review here.
Dining In
• Ima's infamous hot cross buns

If you have ever tried Ima Cuisine's hot cross buns you will know they are a cult classic. Sold out by 7am most days these babies are good. So if you can't make it to her door in time, Yael Schochat shares her absolutely delicious hot cross bun recipe with us. Spiced with cinnamon, nutmeg and cloves and topped with vanilla custard these babies are hard to beat.
See the full recipe over on viva.co.nz.
• Little Bird's Macadamia and Salted Caramel Easter Egg Truffles
Chocolate and caramel yet not a refined sugar in sight. Little Bird know how to make healthy taste delicious. Now you can snack on these without feeling too guilty. Absolute bliss.
See the full recipe over on viva.co.nz

Health Fix
• How much exercise will it take to burn off your Easter egg?
What else is there to do over a rainy Easter weekend than indulge in all things sugary while we take the time to relax? Come Tuesday, you know you're going to want to get back in the gym and work off all your chocolate and hot cross bun regrets. Check out our handy list showing exactly how much exercise you'll need to do to work it all off.
See the full story here.
• The 10 foods you should never eat while you're pregnant
Why you need to avoid tuna, liquorice, alfalfa sprouts and more while you are pregnant.
Read the full article here.
Foodie Events
• MELT by New Zealand Natural Sunday Sessions

Get down to MELT between 2pm and 6pm on Sunday to make all of your ice cream dreams come true. MELT is taking ice cream creations to the next level with ice cream burgers, cookies, macarons and MELTshakes all on offer. We'll definitely be getting down to its yard ASAP.
For more details see here.
• Easter high tea at Whitby's Restaurant
Whitby's Restaurant and Bar in Wellington is hosting high tea this long weekend without the public holiday surcharge. The high tea menu gets an Easter twist with treats such as hot cross buns, Easter eggs and chocolate dipped strawberries on offer. All ages, all Easter weekend daily from 11:30am-3:30pm.
For more info see the event details here.
• Seafood selection at Stamford Plaza
Stamford Plaza in Auckland's CBD are hosting a delicious festive Easter lunch with a 3-tier seafood selection menu. From oyster shooters and hot smoked salmon brioche to seafood pies these are just a few of the delicious reasons to keep you in the big city this weekend.
See the event details here.