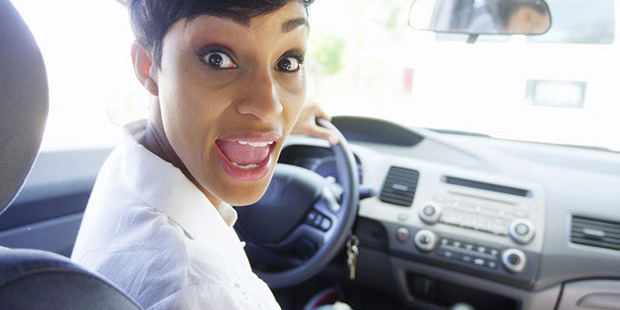 It started out like any other working day for one Uber driver until she picked up a passenger who happened to be headed in a highly familiar direction - the apartment complex where her boyfriend lived.
The Uber driver revealed her story on her Twitter account, where she goes under the handle @Msixelaa.Her tweets went viral.What seemed like a perfectly normal fare from the airport soon turned into quite an ordeal.
So I drive for uber why I just pick this girl up and drop her off to a dick appointment and the dick appointment was my mans house

— Msixelaa (@Msixelaa) March 27, 2017
She tweeted: "fast forward to an hour ago I pick a girl up at the airport she puts the apartment complex in the gps she said she's here to visit."
It turns out, @Msixelaa's boyfriend went to great lengths to weave a web of lies to throw his girlfriend off the scent of his deceit. Making up excuses about his sick mother and even packing a bag, getting in his car and heading off towards the airport to make his lie believable.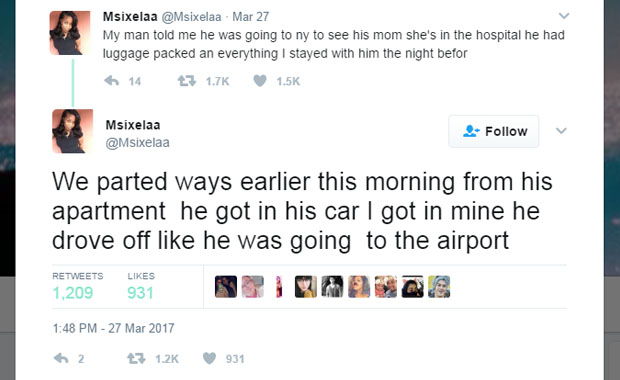 Things started to get interesting when during the ride, @Msixelaa made polite conversation with her passenger.
Her boyfriend and shes so excited She hasn't seen him in forever blah blah blah I'm relating I'm like yeah my man just left out of town

— Msixelaa (@Msixelaa) March 27, 2017
Endeavouring to make sure this wasn't some far-fetched tale in a bid for attention, some Twitter followers sought to clarify how this was all happening.
You guys don't see the address beforehand? https://t.co/vQHyZxcKuX

— Petty Penelope (@KhaleesiNU) March 27, 2017
To which @Msixelaa firmly put them back in their place.
We in the car and we just riding she telling me about herself I let her help herself to my dam water In my backseat

— Msixelaa (@Msixelaa) March 27, 2017
And @Msixelaa was more than generous with her passenger.
I even let her use the aux cord

— Msixelaa (@Msixelaa) March 27, 2017
But the nail biting series of events soon came to a crescendo...
my stomach starts to drop as we get closer to a familiar building and I see his car outside at this point I'm like pic.twitter.com/c2umQeYxco

— Msixelaa (@Msixelaa) March 27, 2017
The car eventually gave away the game.
Girl I was burning up in side when she said "I think this is it right here this is his car☹️" https://t.co/57lcxnFGut

— Msixelaa (@Msixelaa) March 27, 2017
He had the audacity to show his face and at that point, all bets were off as @Msixelaa so eloquently expresses.
His dum ass couldn't eat me to the door before I started beating his ass he was gone leave her outside with me too lol sad

— Msixelaa (@Msixelaa) March 27, 2017
Thankfully @Msixelaa was able to see the good in a bad situation.
anyways this is the reason I now have new luggage

— Msixelaa (@Msixelaa) March 27, 2017
By the way I am single now

— Msixelaa (@Msixelaa) March 27, 2017