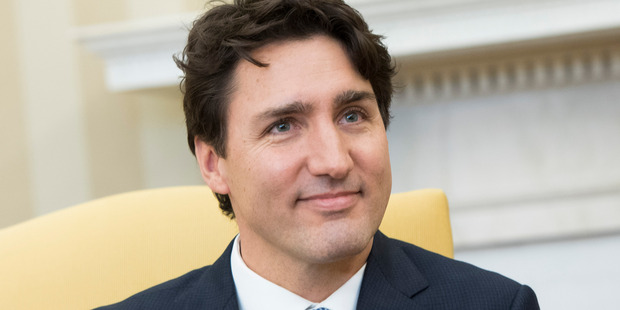 I don't think you're ready for this jelly.
A picture of Canadian Prime Minister Justin Trudeau dressed in form-hugging pants has sent thirsty social media users into a frenzy over his perky behind.
The image is currently going viral on twitter and features the 45-year-old addressing an audience with one leg bent up, highlighting his backside.
The origin of the image is not certain but some reporters have speculated it was taken earlier this month during one of Trudeau's speaking engagements.
Justin Trudeau's of a butt is the best thing to happen on Twitter today pic.twitter.com/0kKCQR4iQD

— Kemal Atlay (@kemal_atlay) February 23, 2017
"I usually try not to post about politics on twitter, but I'm ready to start a conversation about Justin Trudeau's butt," one twitter user tweeted.
"Find someone who loves you as much as the internet loves Justin Trudeau's butt" tweeted another fan.
Naturally, there are a lot of peach emoji references.
Meanwhile, it is making other twitter users question themselves or each other.
I've discovered the solution to world peace, and it is Justin Trudeau's butt.

— Tater Thot™ (@_pvergs_) February 23, 2017
Others are not quite as impressed though, pointing out the hypocrisy.
if youre tweeting and talking about how hot Justin Trudeau's butt, you are doing the same thing people do to women. feminism works both ways

— claire (@_sacrosanct_) February 25, 2017
But in a world where there is so much bad news, maybe we just need to let each other have this.
The internet is weird and wonderful place.