Sure it's an American holiday, but more and more Kiwis enjoy Halloween – even if it's just another excuse to dress up. Extend your costuming on October 31 by getting your dog in on the dress-up action – here's some inspiration we've rounded up from the web.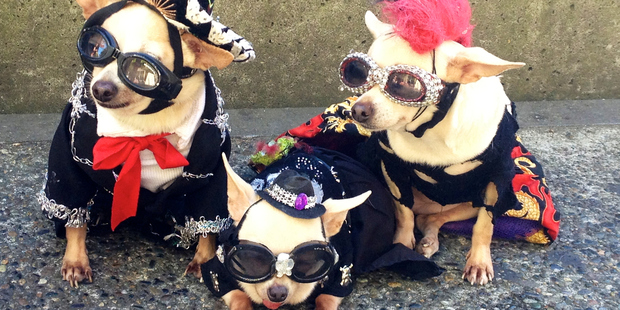 1. Hot-diggity-dog
Take the Dachshund-as-hotdog costume to the next level by being the hotdog seller. Your sausage dog will be happy with this one, as it involves them getting carried around all night.

2. Bath-time dog
Don't worry, this costume doesn't actually involve any water. A great DIY-friendly option: dress up as a giant soap bar and turn your dog into a giant loofah.

3. Little red riding woof
If your little human wants to dress up at Little Red Riding Hood, why not dress up your dog as her companion? Give your dog a double disguise by dressing it up as the Big Bad Wolf dressed as Grandma...

4. Beanie Doggy
This one's for dogs less obliging when it comes to dress-up. Remember the 90s craze, Beanie Babies? Why not dress as your favourite and give your furry friend a special tag to match?

5. Frisky Business
Has your dog been burdened with having to wear a cone around its neck after a trip to the vet? No worries. For a low-effort, high-impact costume, why not dress as Tom Cruise in Risky Business? Whack a couple olives in that cone and find yourself an instant martini glass as your companion for the night.