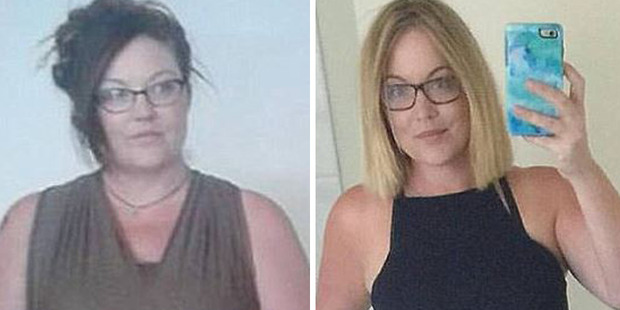 In November, 2014, Mel Wright, 39, was told she was pre-diabetic and would likely develop "full blown" diabetes within five years.
Weighing 120 kilograms (264 lb) and lacking self-confidence, the mother-of-three, from Toowoomba, Queensland, realised it was time to make a change.
Now, almost two years on, she has dropped close to 50 kilograms and says she has never felt better.
"Before I fell pregnant with my first child I was doing modelling and had this amazing figure and great metabolism and I took it for granted," Ms Wright, now approximately 72 kilograms and a size eight, told Daily Mail Australia.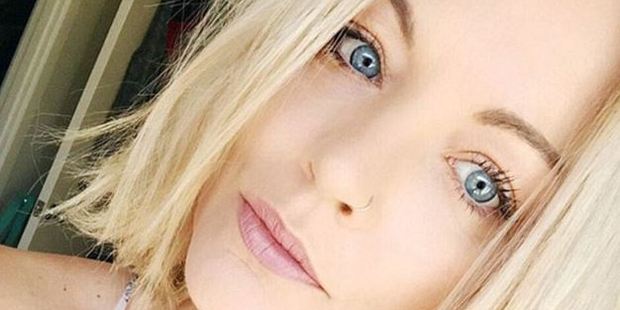 "I had gestational diabetes and put 40 kilograms on during my first pregnancy that never went away. In November 2014 when I found out I was so close to diabetes I knew I needed to fix things.
"My diet was also terrible. I was eating a lot and I had a really unhealthy addiction to chips - I would eat them all day and in bed at night while watching television."
Ms Wright stopped weighing herself at 120 kilograms and decided to take "baby steps" towards changing her life.
"I was on a medication at the time that was playing around with my endocrine system so I went off that with doctor's assistance and then started eating consciously," she explained.
"I went from shovelling food into my mouth while watching TV to thinking about what I was eating and realising that I didn't like the salty taste at all."
Ms Wright also took ownership for her weight gain and stopped thinking that her body had "let her down."
"I started a blog to keep me accountable and by eating wholesome meals only I was able to lose my first 20 kilograms," she said.
"I cut out takeaway and "easy" options as well as removing processed foods and all pre-packaged foods from my diet. I was having salads and smoothies instead of easy greasy foods."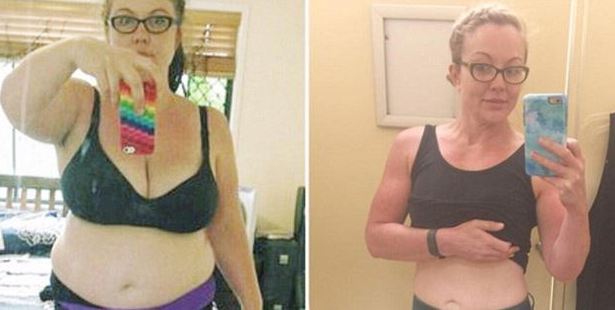 Once she lost 20 kilograms Ms Wright decided to go to the gym for the first time in 20 years.
"I had never been to the gym as a big person and I felt like everyone would stare at me. I was petrified and put on this huge baggy shirt," she said.
"But it wasn't that way at all! Everyone was doing their own thing and I got straight into it.

"My partner, who has always been really into fitness, came with me and we did some cardio. I thought I was going to die."
Ms Wright noticed changes in her body almost immediately and after starting weight and interval training she said the weight started to "melt" right off her.
"Strength and weight training is amazing. I barely do cardio - I do high intensity workouts and dead lifts. I can now dead lift 115 kilograms," she said.
Ms Wright recently had an Olympic lifting platform installed in her home and now focuses only on how she is feeling and her body fat percentage, not her weight.
"It has changed my life. I went from someone who was so unstable mentally and so unhealthy and unhappy to turning my whole life around. I can't think of a single moment where I thought I was going in the wrong direction," she said.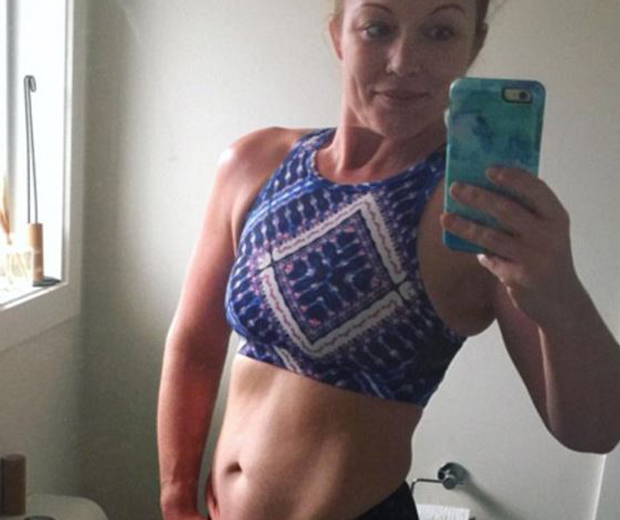 "I never knew what joy was. I love the gym so much and it has never felt like a chore."

But Ms Wright is all about balance and will reward all her hard work with a box of Krispy Kreme doughnuts as often as every four days.
"Balance is so important and I don't say no. If I think 'that looks so delicious I want some' I will eat it. I will eat all the doughnuts," Ms Wright said.
"I used to be so strict but now I'm burning so many calories that I sometimes struggle to have enough food in a day.
"If we get a six pack of doughnuts I will eat them all. I train hard. It's not a bad thing to do every week... or more often."
Ms Wright, who was diagnosed with bipolar disorder before her pregnancies, says her new lifestyle has changed her mentally as well.
"Since I started on this journey I have been 100 per cent stable. I never knew it would be possible to have an amazing life without chaos in my mind but it is possible, I am proof," she said.
"My life is truly amazing in every way."
Ms Wright is now training to be a personal trainer and hopes to train women to be fit and healthy, regardless of their ideal body size.
"You can't do this for a bikini body. It has to be a change in your life and mindset," she said.
"If you told me in 2014 that I would become a personal trainer I would have laughed. I didn't believe in myself or that any of this would be a part of my life."
Ms Wright also encourages mothers to take time to work on their health.
"It's all about the baby steps... I wish I had joined the gym sooner," she said.
"Find what you love and do that. Some people like machines, others love Crossfit, some like weights.
"Achieve your goals by finding that passion and take progress photos even when you feel revolting. Seeing photos of my progress has been amazing and waking up with a flat tummy the other morning was mind-blowing to me. I never thought that would be me."
Ms Wright shares updates on her fitness regime on her blog and Instagram page.