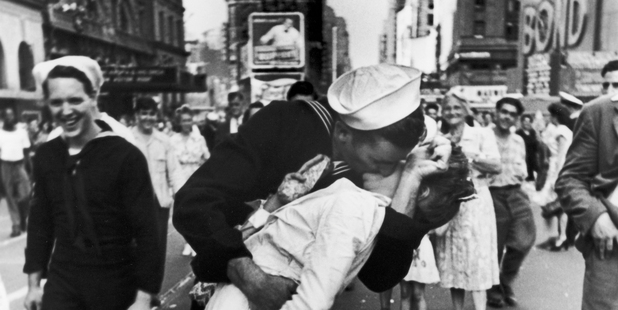 The woman kissed by an ecstatic sailor in Times Square celebrating the end of World War II has died.
Greta Zimmer Friedman's son says his mother died Thursday at a Richmond, Virginia, hospital of what he called complications from old age. She was 92.
Friedman was a 21-year-old dental assistant in a nurse's uniform on August 14, 1945. She went to Times Square amid reports that the war had ended. That's when she was kissed by George Mendonsa celebrating Japan's surrender.
Life magazine photographer Alfred Eisenstaedt captured the moment. It became one of the most famous photographs of the 20th century.
Joshua Friedman says his mother recalled it all happening in an instant.
She will be buried in Arlington National Cemetery, next to her late husband, Dr. Misha Friedman.
Glenn McDuffie, the US Navy veteran who claimed he was the man in the photo, passed away aged 86 in 2014.
The editorial director of Life magazine, which published the photo, said the subjects of the photo will remain a mystery because Eisenstaedt died in 1995 without giving confirmation.
- AP