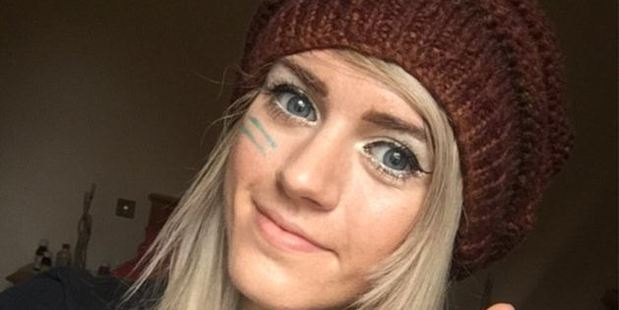 Marina Joyce is a reasonably popular British fashion vlogger who posts cheerful YouTube videos about what to wear on dates, makeup tutorials, and her hair routine.
But when fans viewed one of her recent posts, they decided there was something sinister going on.
Amid the usual awkward product placement and odd periods of silence, viewers decided they could hear Marina saying "help me".
@MarinaJoyce7 @YouTube okay, honestly do you need help? Never seen your videos, but you act...off...watched some old videos and big differnc

— Wiggin Miller (@Wiggingames) July 25, 2016
What happened next was the eruption of a bizarre conspiracy theory: Joyce had been kidnapped and was being used as a pawn in an ISIS plot to lure fans to a meet and greet where they would be slaughtered.
The hashtag #Savemarinajoyce quickly gained traction as people began scouring her other vlogs for clues. They decided Joyce was also the victim of domestic abuse, a theory that swirled after fans referenced videos from the star bearing visible bruises on her arms and a weapon in the background of one of her videos.
#savemariajoyce there is obviously a bruise on her left elbow. And what looks like a long cut on her right. pic.twitter.com/2dPB0Fdk9Q

— Maile! (@MaileKuulani) July 27, 2016
A tweet claiming Joyce was using sign language to tell fans not to attend her meet up was retweeted almost 4,000 times.
In fact, two million tweets were written, Instagram accounts were dedicated to uncovering evidence and a fake Buzzfeed Community posted that Joyce was already dead.
Of course, it didn't help that a news outlet reported: "Fears teen blogger kidnapped + used by ISIS for London terror attack..."
Fears teen blogger kidnapped + used by ISIS for London terror attack TODAY https://t.co/NoreUTqtkR #savemarinajoyce pic.twitter.com/7b7EFj4ww6

— Daily Star (@Daily_Star) July 27, 2016
Despite the YouTuber tweeting several times that she was in fact alive and well, fans concluded her hand was being forced by her captors. Their theory was spurned by the fact that Joyce was favouriting tweets speculating about her safety.
By this time, amid the furious fan investigations, myriad jokes were also circulating.
rt if you are scared #savemarinajoyce pic.twitter.com/dK1rK8muWh

— ㅤㅤㅤ (@insaneanxiety) July 27, 2016
With the rest of the internet involved, it was only natural that Harambe - the ape shot after pulling a child into his enclosure - should be brought into the mix.
Finally, the theory moved from the digital world into the tangible, and police paid the YouTube star a visit at her home in Enfield.
Officers have visited YouTube user Marina Joyce. She is safe and well. #ETeam #savemarinajoyce

— Enfield MPS (@MPSEnfield) July 27, 2016
Joyce later tweeted to reiterate that she was "totally fine".
Im TOTALLY fine guys, i am feeling very good today and its actually so heartwarming to see so many people care about me

— Marina Rose Joyce (@MarinaJoyce7) July 27, 2016
Joyce's mother has since been interviewed, putting to rest at least a couple of theories:
"The gun is a toy gun, one of those BB guns - I've got other children," she told Mail Online.
"It was me speaking in the video. I was filming for her and I whispered 'stand LIKE me' not 'help me'."
"We're a private family really, this all just turned into a frenzy."