Address:
20 St Johns Rd, St Johns
Phone:
(09) 521 1462
Online
:
meadowrestaurant.co.nz
Rating out of 10:
Food: 7, Service: 7, Value: 7, Ambience: 7
Kale is a conspiracy theory perpetuated by young men who like to crochet craft beer from the artisan trimmings of their organically waxed facial hair.
It is the over-rated and underachieving nudie emperor of the vegetable patch. And yet here I am, in an eastern Auckland suburb, eating my words.
I have before me a bowl of unbelievably delicious kale. I also have a small confession: before tonight, I had never actually eaten the stuff. My hatred had been ideological. A loathing born of the belief that a leafy vegetable should never be turned into a chip or, worse, a breakfast drink. I am not a hipster, ergo I would not eat kale. What an idiot.
At Meadow, the $7 bowl of Clevedon-grown greens is firm and pleasantly bitter, with background hits of chilli, garlic, lemon and rosemary. I am converted.
This is a smart suburban local that has its neighbourhood nailed with a don't-scare-the-horses menu - pork belly, slow-cooked beef cheek and lamb rump, for example (all $35), alongside a char-grilled burger ($22) and pizzas ($23-$25).
Central city prices are tempered by the enormous serving sizes. Jo's $35 "market fish" featured two large and perfectly cooked crispy-skinned john dory fillets on top of a large splodge of silky celeriac puree and (that Clevedon garden is clearly going gangbusters) more kale.
Emma's pork was moist and crackled in all the right places. Red cabbage and kumara mash might not have been the most inventive accompaniments, but there was lots and it all made perfect flavour sense. Sometimes, it's not worth messing with the tried and true, a lesson I wish had been applied to my gnocchi.
The $26 vegetarian main came with butternut pumpkin, cavolo nero, toasted seeds, thinly sliced radish and blobs of labneh. It looked so pretty. But it was Italy via the Middle East, eaten in Meadowbank - and, for me, that was one side-trip too far.
I've skipped straight to mains, and of course, we started with a starter. Suburban menu lore states that if there's pork belly, there will be sliders. Meadow's come with lamb, feta and harissa mayo ($14) but we had already opted for the lesser-spotted entree carb: a $10 buttermilk waffle with brie and kasundi, a combination that actually tasted pretty good.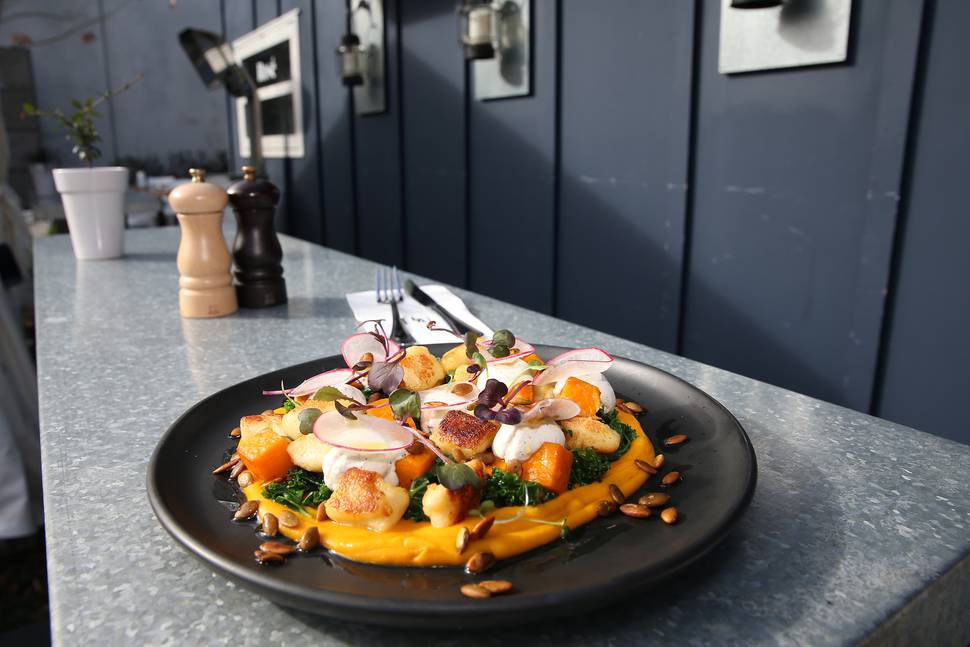 The citrus-cured salmon ($16) was the night's most successful dish. Eight chunky slabs of fish, a well-balanced orange dressing and cubes of spice-infused beetroot were light and refreshing without being boring.
At 6.30pm on a Tuesday, Meadow was already very busy. Two large groups were testament to the "something for everyone" feel of the place, but our service was friendly and quick. It's the kind of restaurant you could visit with a date, your mum, your business partner or - as I did - a friend you haven't seen for months and her teenage daughter. All will be equally happy. The teen will probably order the doughnuts ($15) with rhubarb jam. You should let her, because they are a pretty nice way to finish a pretty nice dinner.
Our table of three spent $216.