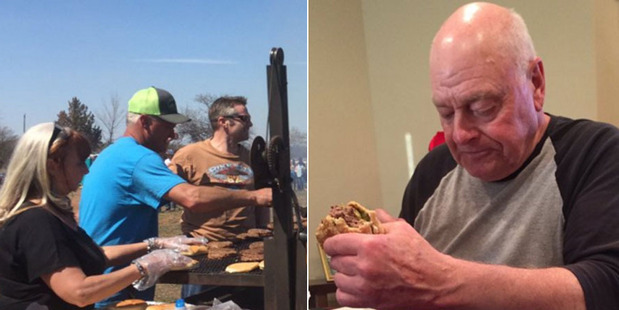 He's the grandpa who's photo went viral last week after his grandaughter tweeted that he had made dinner for his six grandchildren, but only one showed up.
The tweet was retweeted over 181,000 times with various messages of heartbreak and offers to join her grandfather for a meal.
dinner with papaw tonight...?? he made 12 burgers for all 6 grandkids and I'm the only one who showed. ?? love him pic.twitter.com/0z0DkPtUiR

— kelsey (@kelssseyharmon) March 17, 2016
Hundreds of Paw Paw's famous burgers are up for grabs for all fans for two bucks! pic.twitter.com/ghsYFN1SAe

— Meredith Keller (@MeredithFox25) March 26, 2016
And on Saturday, that's exactly what happened.
Hundreds of fans flocked to Oklahoma to share a meal with Kenneth Harmon, known on the internet as "Sad Papaw".
Last week, Harmon's grandson announced the family were throwing a cookout for all of their grandfather's fans, serving up burgers and a chance to meet the man who broke Twitter's heart.
The turnout was impressive, with family member Rodney Harmon telling Oklahoma's KFOR: "There are folks here from Pennsylvania, Virginia, New York, California, Germany."
Guests could buy one of Papaw's burgers - just like the meal he made for his no-show grandkids last week - and a T-shirt reading: "I ate a burger with Sad Papaw" for $US16.
One cookout attendee and her two daughters drove 20 hours from southern California to eat with Harmon.
The line of folks from all across the country anxiously waiting to have a burger with Paw Paw! pic.twitter.com/lg6bLsO7Yu

— Meredith Keller (@MeredithFox25) March 26, 2016
Papaw was lovely! He says he hopes if you learned anything from all the hype it's to cherish your family! pic.twitter.com/jz6NXA86ae

— Meredith Keller (@MeredithFox25) March 26, 2016
Speaking to News 9, Sharon Fernandez said she was touched by the story: "It was sad, you know? Here he makes this dinner for his grandchildren, but I understand it, we all have busy lives."
The man of the moment told the Daily Mail he wasn't holding a grudge over the incident that sparked his online fame. "I wanted everybody to be there but I don't get upset about things.
"My son Ryan just plain forgot. I called him to ask whether he and his kids would be coming over but he was busy at work and forgot to tell them.
"These things happen, so I wasn't too sad, it was a misunderstanding."
Pawpaw made over $25,000 in burger/hotdog/shirt sales. Yes, all proceeds went to him. pic.twitter.com/fTMmSHbmEj

— Joel Franco (@OfficialJoelF) March 28, 2016
- nzherald.co.nz