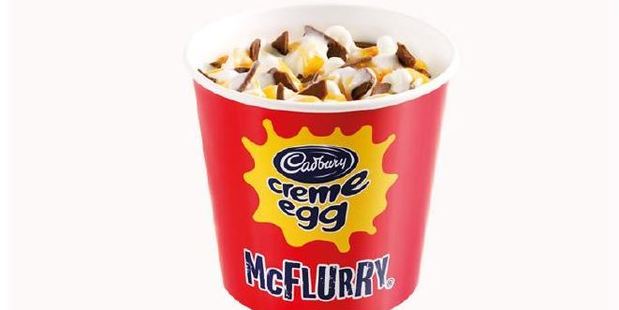 It's a mix of Cadbury chocolate and the famous gooey goodness that goes into Creme Eggs whipped up with McDonald's soft serve into a McFlurry frenzy.
That's right, McDonald's is now selling Cadbury Creme Egg McFlurries. In time for Easter and available for a limited time, you have until April 5 - or until stocks last - to try this latest frozen treat from Maccas.
Described by a McDonald's spokesperson as a "deconstructed" creation, broken up pieces of Cadbury chocolate and Creme Egg's gooey centre are blended in with McDonald's soft serve.
Around the world, McDonald's customers have taken to Twitter to share their thoughts on the Easter-themed flavour.
One user tweeted: "Just had a Cadbury creme egg Mcflurry here in Canada. Let me repeat that, A CADBURY CREME EGG MCFLURRY!!! #dreamsdocometrue."
THERE IS A CADBURY CREME EGG MCFLURRY

— Sophie (@insopherable) February 26, 2016
Some were dubious about the combination, with one person suggesting the egg would have been better in a hot chocolate creation.
To be honest I'm not sure why Maccas did a Creme Egg McFlurry instead of a Creme Egg iced/hot chocolate

— sleepy elf ?? (@cloudbeach) February 26, 2016
But the majority simply expressed their desperation to try it.
Somebody drive me to McDonalds so I can grab that creme egg mcflurry

— Slippery Steve (@TheAlbinoPython) February 28, 2016
Trying to convince William to drive me up to Mcds to buy me a Creme egg McFlurry. Please. Please. Please ????

— Tasha Hunkin (@tashhunkin) February 27, 2016
The bad news? The Easter-time McFlurry contains 383 calories per serve and 56 grams of sugar, which is more than double the daily intake recommended by the World Health Organisation.
Dare we suggest you share one?
- nzherald.co.nz