If you feel the urge to adopt an organic vibe, embrace the Anzac spirit or immerse yourself in something unusual from Italy, I have just what you're looking for …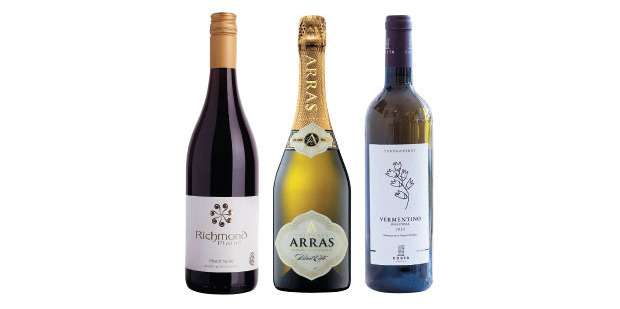 Richmond Plains Nelson Pinot Noir 2014
Don't be expecting to see a neatly manicured, freshly mown vineyard at Richmond Plains, because wild flowers and weeds grow rampantly between the rows.
It's all part of their focus on producing a "biologically active" environment to produce their organic, biodynamic wines. Powerfully juicy, succulent and spice-rich, this pinot noir oozes soft red cherry, plum and forest floor characters, finishing with a hint of cocoa and black tea. Gorgeous with smoked duck salad.
Price: $27.99
House of Arras Brut Elite NV
With its cool, coastal climate, Tasmania has racked up an impressive pedigree for sparkling wine production and we're fortunate to be able to access a number of them on our shores. This deliciously smooth, intensely biscuity example sources fruit from the Pipers River, Derwent Valley and Coal River Valley and shows roast brazil nut and cashew characters on the nose, followed by a rich, creamy, supremely satisfying mouthfeel.
Drool-inducingly good teamed with plump Clevedon oysters au naturel.
Price: $34.99
Costa Tenute Vermentino Maremma Toscana DOC 2014
Now vermentino is a variety you don't see everyday, well not in New Zealand, anyway. Despite an increasing number of Italian wine grapes making a comfy new home on our shores, Vermentino has remained a stranger. It's not a white wine for the faint-hearted or fruit junkies, this Tuscan style is bone-dry and almost chalky on the palate. Ultra-lemony and mineral-driven on the nose, this wine has a long, lean mouthfeel, bearing just a squeak of fresh-cut pear, lime and quince. Make sure it's had at least an hour in the fridge before serving with tomato, olive and fennel-baked whole fish.
Price: $25.90
- Canvas
Yvonne Lorkin is a wine retailer, wine writer and member of the Wine Writers of NZ.