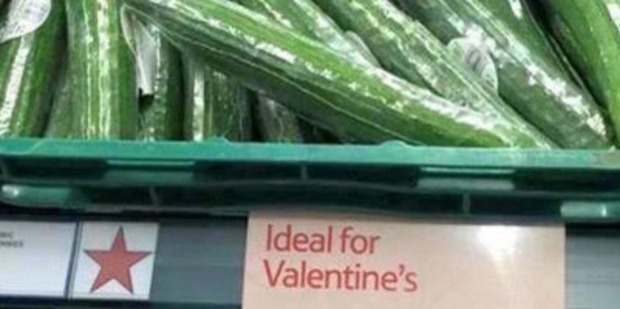 Forget boxes of chocolates and buckets of red roses this Valentine's Day. For one supermarket, they've decided other food items should be promoted as February 14 must haves.
Customers shopping at British supermarket chain Tesco were bemused by the grocery store's "lewd" suggestions that cucumbers and whipped cream are "ideal for Valentine's".
While it's likely the signs are intended to suggest romantic meal ideas, social media users took a different interpretation.
Just trying to find the Valentines recipe that @Tesco recommends for a cucumber. Anyone? ?? #ValentinesDay pic.twitter.com/e0d5mOkifO

— Sarah Willis (@SarahMWillisPR) February 2, 2016
It looks like @Tesco are ready for Valentines Day ??! pic.twitter.com/dVfpDK78zB

— Johnny Robinson (@Johnnyyy23) February 3, 2016
Tesco have the answer for all the romantics wondering what to get their loved ones for valentines.....?????? pic.twitter.com/Mk4cERjPh0

— Russell smith (@Russltfc) February 2, 2016
Facebook user Spencer William le Grys shared a photo of the whipped cream display with the caption: "Tesco, you naughty supermarket, you!".
While Julie Lachtay commented: "'I have new found respect for Tesco."
Tesco have not weighed in on customers' reactions.
- nzherald.co.nz