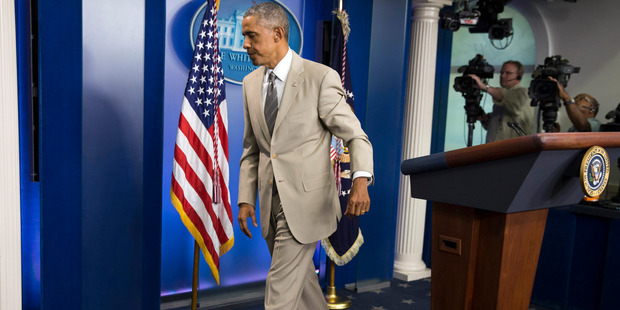 US President Barack Obama was making serious comments about the Islamic State's threat, but the Twitterverse was obsessed with his tan suit.
President Obama held a news conference on the threat of ISIS in Iraq and Syria. Within minutes Twitter was lit up with comments on the crisp tan suit he was sporting just days before Labor Day, which fashionistas deem to be the cut-off point for wearing white and other light colors.
The White House response: "He loves that suit."
We can't really grasp the significance of colour and Labor Day in New Zealand, but either way we think the president looks dashing as usual.
Read more of the social media responses:
Obama: Something something tan suit something tan tan tan something suit.

— Brian Rie$ (@moneyries) August 28, 2014
More than 4,000 tweets were posted about Obama's suit during that press conference pic.twitter.com/uyKoUrZlNy

— Kia Makarechi (@Kia_Mak) August 28, 2014
Remember that time the president wore an ill-fitting tan suit at a press conference?

— Josh Barro (@jbarro) August 28, 2014
I see no problem with the suit. pic.twitter.com/ZFFt75FedU

— John Dingell (@john_dingell) August 28, 2014
*20 minutes earlier* OBAMA: I'm not wearing this suit, Joe BIDEN: No, no you look great OBAMA: Fine. But I'm not wearing the Sea World hat

— Eric Schroeck (@ericschroeck) August 28, 2014
This is about more than a suit...! http://t.co/NUmr32beQw pic.twitter.com/sEcAL8mKXx

— Ruby Cramer (@rubycramer) August 28, 2014
For the astute fashion observers, Obama has worn a tan suit before. Here he is on Easter Sunday 2014. pic.twitter.com/JiFh94neK2

— Matt Viser (@mviser) August 28, 2014
The outfit now has it's own parody account with the handle of @BarackTanSuit.

- www.nzherald.co.nz