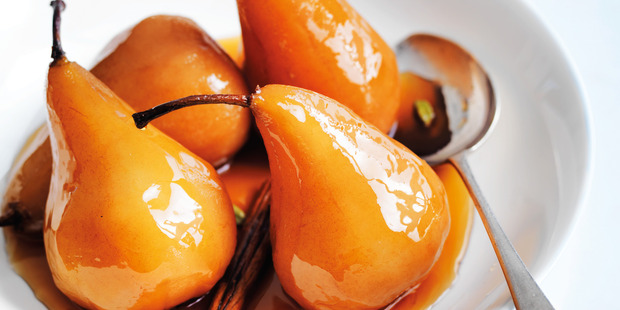 Serves 4
• 1 litre water
• 1½ cups caster sugar
• 2 chai tea bags
• 1 cinnamon stick
• 3 cardamom pods, crushed
• 4 x medium beurre bosc pears, peeled
1. Place the water, sugar, tea bags, cinnamon and cardamom in a medium saucepan over high heat and bring to the boil. Remove the tea bags and add the pears.
2. Cover with a piece of non-stick baking paper and top with a small plate or lid to weigh down the pears. Reduce the heat to medium and simmer for 35-40 minutes or until the pears are soft.
3. Carefully remove the pears from the syrup, increase the heat to high and cook for 20-25 minutes, or until thickened slightly. Spoon the syrup over the pears to serve.
Tips and tricks
• Chai tea bags are available from most supermarkets. You can use a loose-leaf variety if you wish, in a tea infuser. As a guide (depending on the strength of your tea) 1 tsp of loose tea is about the same strength as a tea bag.
• Serve the pears with scoops of vanilla icecream for an elegant dessert. Any leftovers are delicious sliced over porridge or muesli, drizzled with a little of the syrup.
• Tie tea bags to the handle of the saucepan when preparing rice pudding, to make it easier to remove them once the rice is cooked.