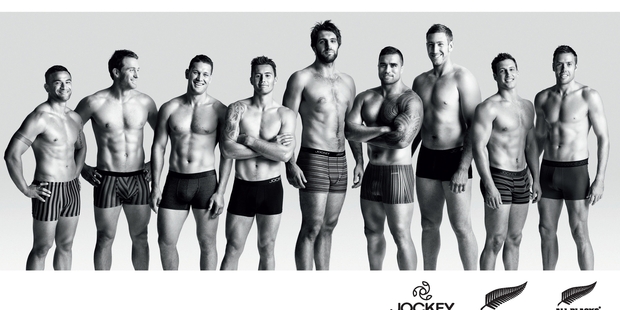 He's got big Jockeys to fill, following in the footsteps of Dan Carter, but Hawke's Bay's own Gillies Kaka is up for the challenge.
Kaka was photographed in the signature skintight boxer shorts alongside eight other All Blacks and All Black Sevens players in February, as part of a new sponsorship deal with Jockey.
Now he's stripping down for a catwalk event at New Zealand Fashion Week in Auckland next Thursday.
"I thought it was a good opportunity to get up there and see what all the fuss was about," he told Hawke's Bay Today.
"You do feel that pressure to live up to[Dan Carter], but we are just doing this for a bit of fun."
He says "the boys" including Victor Vito, Tawera Kerr-Barlow, TJ Perenara and DJ Forbes, kept their runway debut under wraps, but word eventually got out.
"We kept it pretty quiet, just going to the gym a few more times a week, but some of the boys picked up on it and gave us a bit of flak."
The men will be showcasing their toned physiques and Jockey's new line at a Resene Designer Selection Show presented by Woman's Day at the Viaduct Events Centre.
"It's a bit nerve-racking, similar to before a game, there's a good group of boys as well so that makes it much easier."
Kaka was yet to try out his walk, but would have some schooling before the event to ensure it all ran smoothly.
"Runway model Nikki Phillips will teach us what to do and what not to do, it should be a bit of fun and that's the main thing."
Not only does he talk the talk, he walks the walk - wearing Jockey underwear when setting foot on the field.
"They are just so comfy, even to train or play in, the performance Jockeys are some of the better ones out there."
Jockey New Zealand marketing manager Will Radford said having well-known players disrobe to take part in Fashion Week was a first. "The guys really embraced the idea and got behind it ... it's a great chance for them to have some fun with the brand."
For more articles from this region, go to Hawkes Bay Today