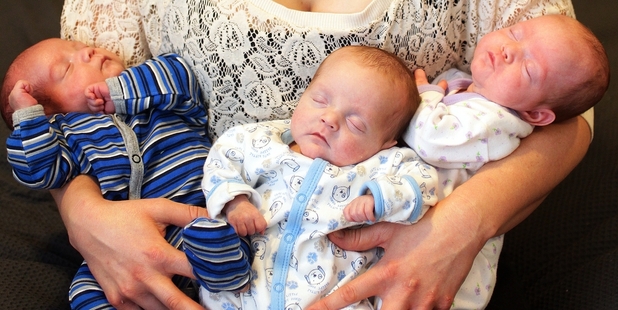 Lucy Nicoll always expected to breastfeed her newborn triplets — what she didn't bank on was expressing milk night and day for her tiny babies after they were born a staggering 15 weeks early.
As little Molly, Joshua and Cameron prepare to leave hospital, Nicoll believes providing her milk was the best thing she could do for her babies who were hooked up to machines in the hospital's neonatal intensive-care unit for weeks.
"For me it was the most natural and important thing I could do. It has helped build their immunity, it's good for their digestion and has helped with bonding," the Auckland mum-of-four said.
Nicoll said she began expressing within two hours of waking from the general anaesthetic after giving birth in April.
For the next eight weeks she pumped breastmilk nine times a day. The regime slowed a little when daughter Molly began to suck eight weeks after her birth.
The boys followed a few weeks later.
Nicoll said the triplets, who were actually due today, have put on weight and are doing well.
They weighed between 720g and 795g at birth. Molly and Joshua now weigh over 3kg and Cameron is 2.57kg after battling a series of health setbacks.
Starship lactation consultant Lynley Nichols described Nicoll's efforts as "the Commonwealth Games of breastfeeding".
"These babies are alive because of the breastmilk and motherly care Lucy is giving her babies," she said.
World Breastfeeding Week will be marked by New Zealand women gathering to feed their babies at malls, cafes and marae for the Big Latch On.
For details of your nearest Big Latch On, 1 and 2 August go to www.biglatchon.org.nz; www.facebook.com/biglatchonNZ