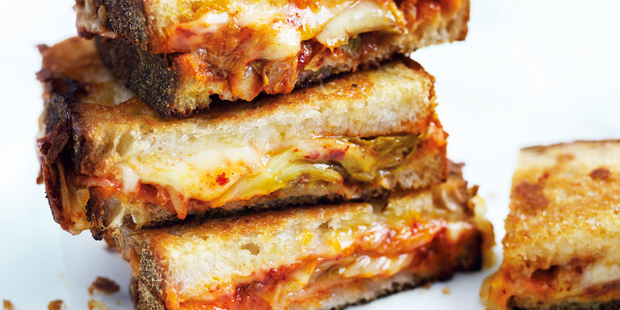 Eaten at every Korean table, kimchi is adored for its sour fermented flavour. The pungent cabbage condiment is available ready-made from Asian grocery stores, and while
it can be intense at first bite, most soon find it becomes addictively good. Increasingly popular paired with all kinds of dishes, we love adding it to melty cheese toasties for a spicy flavour kick.
Serves 2
• ½ cup grated mozzarella
• ½ cup grated cheddar
• ½ cup kimchi (see tips and tricks)
• 4 slices sourdough bread
• softened butter, for spreading
1. Divide half the combined cheeses between two of the sourdough slices, top with the kimchi and remaining cheese. Sandwich together with the remaining bread and spread the outsides with butter.
2. Heat a medium non-stick frying pan over medium heat and cook the sandwiches for 3 minutes or until golden. Turn and cook, covered, for a further 3 minutes or until golden brown and the cheese is melted.
Tips and tricks
• Ready-made kimchi can be found at Asian supermarkets and grocery stores.
Kimchi pancakes make a great brunch or lunch snack. Serve them with poached eggs for a more substantial meal.