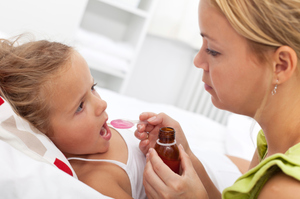 Parents are being urged to check whether their children are among thousands prescribed a liquid antibiotic in which glass fragments have been found in two bottles.
Pharmacists found the fragments when preparing oral solution of the Actavis brand of liquid amoxicillin for supply to patients, the Ministry of Health said today.
Although there have been no reports of harm to so far, the ministry says between 10,000 and 20,000 bottles of the brand are likely to have been dispensed since it became a fully-subsidised medicine on July 1.
It expects "a significant number" of those prescribed the medicine to be under six.
Up to 60,000 bottles are estimated to be in the distribution chain, the bulk of which officials are confident will be stopped and either held or returned to the distributor before reaching patients.
The ministry says a recall by the medicine's supplier in consultation with the Medsafe agency has been instigated as "a precautionary measure" as the glass fragments appear to have broken off the lips of the two bottles during manufacturing.
Pharmacists found the glass fragments and alerted the supplier, which told MedSafe on Tuesday afternoon.
It urges anyone prescribed amoxicillin liquid to check whether it is of the Actavis brand and, if so, to stop using it and contact their GP or the pharmacist who dispensed it, for a replacement.
Actavis amoxicillin liquid is packaged in glass bottles and available in two strengths - 125mg/5ml and 250mg/5ml.
The medicine is a frequently-prescribed antibiotic, often used to treat children for glue ear, chest, skin and urinary tract infections.
It is also used for other less common conditions.
The ministry says neither the capsule form of Actavis, nor other brands of amoxicillin, are affected by the medicine supplier's recall.
It says there is a "limited" supply of alternative brand liquid amoxicillin, and a number of suitable Government-funded alternative antibiotics remain available.
It is assuring caregivers that in most cases, children with a simple infection can miss a single dose of the antibiotic without concern.
But anyone with concerns or wanting advice should contact their doctor or ring Healthline or Plunketline.
It says any charge for services provided as a result of the recall will be at the discretion of GPs or pharmacists.
But it expects a significant number of those affected to be under six, for whom there will generally be no extra charge.
The ministry says that as the bottles of recalled medicine are sealed with aluminium foil caps, it is not possible to visually identify damage to their glass lips during or after manufacturing.
"Visual inspection will not identify glass fragments within their antibiotic powder."
• For more information, phone Healthline on 0800-611116 or Plunketline 0800-933922.