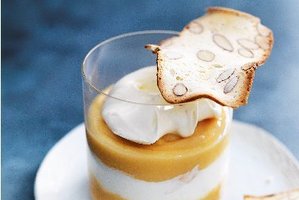 When you're entertaining, it's comforting to know you have a few simple, time-saving tricks up your sleeve. These cheat's trifles are exactly that. With their stunning layers of cream and colour, your guests will be suitably impressed. Little will they know these beauties took only moments to assemble, using store-bought shortcuts and failsafe flavour combinations.
Serves 4
• 1½ cups pouring cream
• 2 Tbsp icing sugar, sifted
• ½ cup store-bought lemon curd
• store-bought almond biscotti, to serve
1. Whip the cream and icing sugar until soft peaks form and divide between two bowls. Gently fold the lemon curd into one bowl of cream.
2. Divide half the lemon cream between 4 x 1-cup-capacity glasses. Top with half the plain cream and repeat the layering, finishing with the plain cream.
3. Serve with almond biscotti.
Tips and tricks
• Persian fairy floss, or pashmak, is available in specialty food or cake decorating stores.
• Assemble trifles ahead of time and refrigerate until needed. Decorate with biscuits, or top with fairy floss just before serving.
• Crumble your favourite biscuits on to your trifles, and don't be afraid to mix and match layers, swapping berries and fillings.