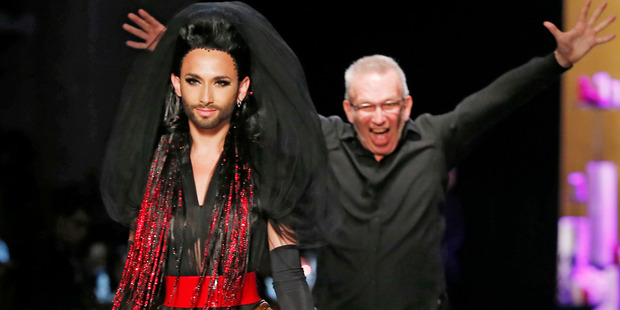 Eurovision winner Conchita Wurst closed Jean Paul Gaultier's haute couture show at Paris fashion week, resplendent in a black and red vampire-themed gown.
Gaultier said he meet the bearded Austrian transvestite two years ago, joking that he voted for the singer 73 times by text in May's Eurovision song contest.
"She is bringing in a new genre -- a man with a beard with... virility, but a great femininity," he said.
"It's an incredible mix. It's an act of courage and beauty to live her life the way she wants to live it," he added.
On the penultimate day of the haute couture collections for autumn/winter 2014/15, Gaultier drew applause with looks including a completely transparent dress with just strips of blood red Swarovski crystals strategically placed to preserve the model's modesty.
Gaultier said he had tried to scale back his usual use of colour.
"It was good because for one time I didn't do so much colour," he told reporters backstage after the show.
"I did the black because of the black darkness etc, the white because of the innocence, of course a cliche, (and) the blood of course (was) the red," he said.
- Vampire theme -
Elie Saab, meanwhile, stuck to the Lebanese designer's well tried and tested formula of heavily embellished gowns perfect for the red carpet.
Tulle and lace shimmered with embroidered sequins, pearls and fine thread and many of the dresses featured fur wraps.
Elsewhere, Maison Martin Margiela celebrated vintage with a 1920s panel dress and a 1949 bomber jacket among the fashion relics given the haute couture treatment.
The fashion house -- which has made an art form out of buying vintage pieces to restore and rework, or recast in new fabric -- described its latest collection as a "collective memory of haute couture".
"What couture usually conceals is revealed; samples and scraps of fabric are salvaged and re-embroidered to become ornamental," it said.
Martin Margiela's panel dress was purchased from a New York collector having earlier been altered into a children's party costume in the 193Os.
For the collection it was taken apart, restored and blended with embroidery samples with plant motifs, a process that took a total of 142 hours, it said.
The bomber jacket was worn over a couture bustier and skirt made from embroidery samples.
An inscription on the back read: "To the best father in the world, from your loving son Herbert, 1949, Tokyo, Japan."
Some models wore black polka-dot face veils and long dangly earrings while others had their faces completely concealed due to heavily embellished "Faberge egg" face veils.
Frank Sorbier, meanwhile, drew inspiration from his family's past in the French Basque Country for his romantic "Poems" collection.
Hundreds of flickering, scented candles decorated the historic Wagram Room, near the Arc de Triomphe, where the show was held.
- Every dress is a poem -
Looks featuring voluminous silk skirts, long lace veils and sweeping trains were given names such as "My Bohemian Arthur Rimbaud" or "Charles Baudelaire Evening Harmony", references to two 19th century French poets.
The designer recalled arriving by train in Paris from the country with just a suitcase, a sewing machine and his memories.
"I knew that one day all these happy images (from the past) would find their place," he said.
Every dress was a "poem" and "eternal" if sincere, he added.
Haute couture, which exists only in Paris, is worn by the world's richest women due to its sky-high prices.
It is a legally protected appellation subject to strict criteria, such as the amount of work carried out by hand, the limited number of pieces and the size of a house's workforce.
Around 30 haute couture collections for autumn/winter 2014/15 are being held in Paris this week and are due to wrap up on Thursday.
- AFP