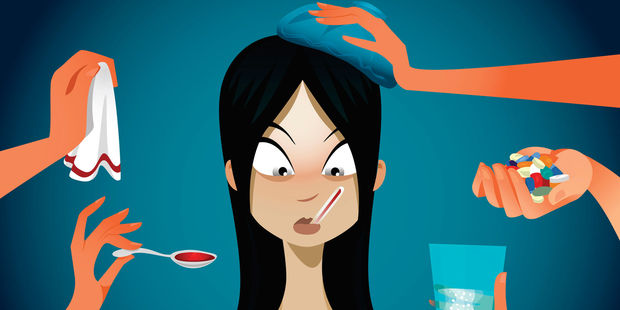 Being sick sucks. Usually it comes when you're at your busiest, you feel unable to stop life for anything, let alone a snotty nose, and it was just when you were about to make a triumphant return to spin class. Festering at your desk is not the answer, and once you have actually been struck, all the remedies seem to be to about soothing the symptoms rather than ridding you of it immediately. I read somewhere recently, a bogus pseudo-medical blog I believe, that you can keep germs away with 'practicing good hand washing, avoiding touching your face, eating healthy and exercising.' I'm pretty sure that's just general good practice for life. Sometimes no matter how hard you try, one bus ride next to a sniffing stranger and you'll be struck. Do wrap up warm and look after yourself this winter, but if do get blessed with a common cold, here's some highly scientifically-based investigative research into what may or may not help.
1. Garlic in the socks
A not so wise man, and in fact, probably a mean-spirited work colleague from my waitressing days, told me that sleeping with garlic cloves in your socks would cure a cold.
He also said: "chomp on a few whole cloves too". I could feel it coming - a slight sniffle, the odd sneeze, and a scratchy throat. I probably had essays due and tables to wait on, and in that desperate state took his advice. Whole garlic cloves in your socks at bedtime do not a cure make. I'm sure I had a slight garlicky tinge in my mouth in the morning, and I felt no better. Some recommend a paste applied to the feet at the first sign of a sniffle, and many people swear by chewing the cloves whole. Garlic definitely has remedial qualities, and purest form is best for your health, if not your ability to get a kiss goodnight. Add it liberally to soup, or try a caramelised garlic tart - Ottolenghi does a great one. Far more refined.
2. Ginger wine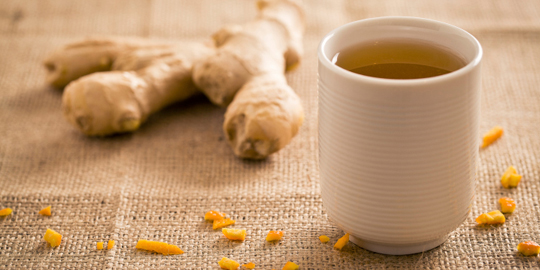 Photo / Thinkstock
If you're unluckily struck down in your leisure time and still want to socialise, most wine will be wasted on you if a bit blocked up. Only the spiciest of wines will get through the blocade, and Stone's Ginger Wine was made for you. A friend swears she once felt a cold coming on at night so drank a bottle of ginger wine with friends, and in the morning her cold was gone. It's so soothing, and the spice of the ginger certainly feels somewhat medicinal. A whisky mac adds a shot of whisky to your ginger wine; try two parts ginger wine to one part whisky with an ice cube. That one has my personal guarantee to making you feel better. It will at least helping numb the symptoms. Other beverage-based solutions include the good old lemon, honey and ginger - some cafes take this super seriously, which is handy if you're out and about.
3. Chicken soup for the snotty
Chicken soup has long held the title of most clichéd comfort food ever. I have fond memories of eating chicken noodle soup at my Dutch grandmother's house as a child. Prescribing yourself chicken soup when struck with a cold is more about feeling comforted than cured. There's also that very romantic notion of someone luring you away from watching terrible romantic comedies on your laptop in bed, by knocking on your door with a freshly made batch. A bit of spice in your soup is going to help; maybe try an Asian style chicken noodle soup or broth, loaded with Vietnamese mint, ginger, garlic, and chilli. Comfort at its spicy best.
4. Duvets and naps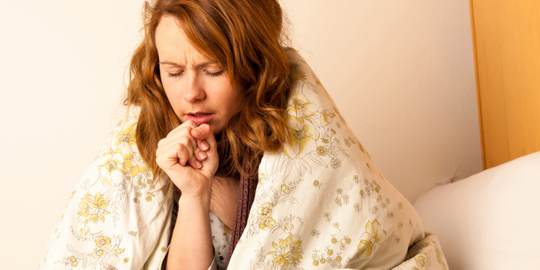 Photo / Thinkstock
One prevailing piece of advice is to stay warm and rested. Pull out your onesie and wear your duvet like a cape. Definitely use this time to utilise all the people in your life - your parents, your adult children, and friends both new and old. And if in the throes of a new relationship, or if you're comfortably in an older one, nothing will put it to the test like red puffy eyes, a drippy nose, and placing demands on your partner involving soup deliveries. Lots of sleep will definitely help, and this is also the time to watch the cheesiest of movies. You can cry at inappropriate movies with no shame, blaming the tears on the watery eyes of your cold, or the heat of the chilli in the soup.
5. Better out than in
To alleviate the aforementioned puffy eyes and drippy nose, the comfort of childhood will come flooding back with a menthol-loaded rub like Vicks, especially if it's put in a steaming bowl of hot water. Hold your face nice and close, cover your head with a towel, and let the steam help you breathe easy. Be careful though; steam burns are no joke, nor is acquiring the nickname Rudolph when you're feeling under the weather. If you're feeling niggled by a cough, by all means do not go to work. No one likes an office cougher. Go home, fill your hot water bottle, keep your fluids up, and rest. If you can find someone to hug you, then all the better.
Disclaimer: Delaney Mes is a freelance writer with her tongue firmly in her cheek, and is in no way qualified to give you medical advice (although with the help of Google she'll probably try). If you are very unwell, please seek actual medical advice.