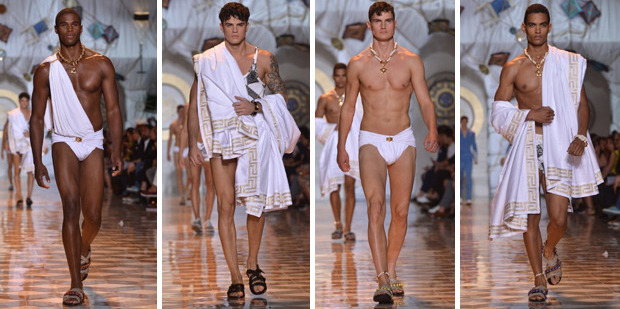 It's a fairly safe bet you won't catch Kiwi blokes at the beach this summer in the latest Versace look - toga-chic.
In fashion terms Donatella Versace's Spring Summer 2015 men's collection was billed as a Cuban-inspired toga party. The reality was male models in teeny white toga inspired budgie smugglers.
The designer referenced her Italian heritage with toga-like outfits made from Versace towels and speedos. Models strode down the Milan catwalk in net vests, lace-up leather and macrame embroidered shirts depicting Havana streetscapes. Pink and cobalt blue suits provided a bright pop of colour.
Versace told fashion website Dazed Digital she loved the colours of Cuban buildings and street art.
"I was thinking of Cuba," she said.
"I like the attitude of it."
But will we see these tiny toga swimmers on the beach in NZ this summer?
- AAP