Address:
8c Turua St, St Heliers
Phone:
(09) 215 8332
Rating out of 10:
Food: 6, Service: 7, Value: 5, Ambience: 6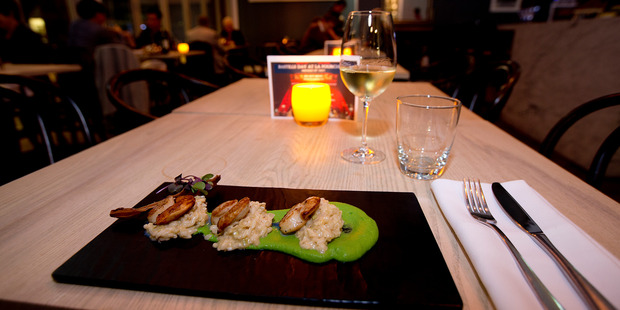 We've had the good fortune to eat at three French restaurants recently, all of them bistro style and all of them very different. La Garde Manger, in Upper Queen St, was hugely authentic. Frenchie produced excellent French food out of a tiny kitchen, and La Fourchette, with its crisp, modern decor, local patrons and modern sound track was different again.
The menu's longer and more adventurous than the others' and the wine list is the usual mix of New Zealand and French favourites. We opted for a bottle of chardonnay and a plate of garlic bread to share, which was different in itself. This was not your usual French baguette, but pizza bread sizzling with garlic butter - and it was delicious.
The soupe du jour was served in a large bowl, which made the pool of velvety pumpkin and kumara at the bottom look small. Actually, it could have been a little more generous.
The rest of our entrees were served on oblong, charcoal-coloured slabs, with the coquilles (in my case) arranged in a row: first orange roe on the accompanying green foam, the rest of the scallop on a pile of grainy risotto with a pea puree, followed by another large scallop, the two of them cooked to tender perfection.
Annie's prawn beignets were breaded, crunchy and delicate, but alas, Brian's sweetbreads were tiny.
Carved into morsels the size of chickpeas, he had trouble even locating them in the salad, which was disappointing.
We were now in for a fair wait, which gave us time to talk, observe the locals and try to ignore the music with its over-emphasised, thumping bass line.
Meanwhile, every five minutes it seemed, our rather brusque French waiter would swing up and replenish our water glasses, which became annoying by the end of the night.
Meanwhile, the sommelier would top up our wine. Now I know this is considered good service, but when you're driving it makes it too hard to keep a check on how much you're drinking. And try as I might, he didn't seem to understand I didn't want automatic refills.
Then my boeuf bourguignon arrived and all was forgiven. Served in a generous bowl it looked wonderful and tasted better. The beef had been slow-cooked to melting tenderness, and the carrots and mushrooms still held their own flavour. Except for an absence of greenery, it was excellent.
The others were tearing into the gurnard special, which came in a sort of teepee arrangement around green beans and mashed potatoes. Despite being plain and simple, with no batter, breadcrumbs, accompanying sauce, or even a flour coating in sight, they assured me it was perfect.
Alas, Brian's pork belly was not so successful. The meat was stringy and tough, with a thick layer of fat that hadn't dissolved as it should. Again he was disappointed, "How could they charge $33 for this?"
But they had one last chance with him, in the form of crepes suzette, and these pleased him mightily. Light and fluffy, with plenty of Grand Marnier poured over and flambeed, they were an excellent example of fine, classic French cooking, as were the crepes baies sauvages, which were liberally stuffed with tart red berries, but the promised mint and rose water flavours were either missing or a little too subtle. My tarte tatin was ho hum, no sign of the rich caramel flavour that comes when the apples are slow-cooked and sugary.
However, nothing could compare with Annie's chocolate mousse - huge, flouncy and fabulous, served with whipped cream.
Since comparisons are odious, I won't try and compare La Fourchette with the others, except to say it charges city prices for what is, after all, a distinctly suburban experience.
Our meal: $309.50 for one bottle of wine, four entrees, main courses and desserts.
Wine list: A wide-ranging mix of good New Zealand and French wines.
Verdict: Competent but doesn't quite pull off the nouvelle cuisine style it aspires to.
Follow Life & Style on Twitter and Facebook.