Gawdy brights, chill out. It's all about restraint with this season's colour blocking update.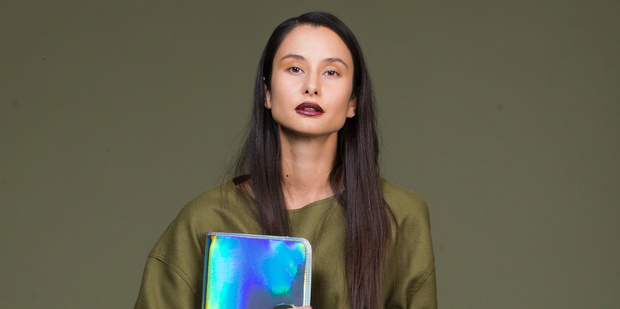 Peacocking street-style figures know that wearing colour-blocked outfits is a surefire way to get their picture taken. However, this time around the lesson is in subtlety, toning down brights by combining them with the more quieter and subdued colours of the season.
Earthy hues such as brown, khaki green, burgundy and ochre provide an unusual yet refreshing take on colour blocking when worn with primary brights or even the myriad pastel tones available right now. These typically spring/summer colours are still making an impact well into the cooler months, an indication that designers are focusing heavily on more trans-seasonal pieces.
For his recent autumn 2014 collection for Christian Dior, Raf Simons highlighted this idea by teaming crisp, man-style pant suits in crimson red and forest green with bright yellow and brilliant hot-pink car coats, providing the perfect example of balanced colour blocking.
Good knitwear is key, so look to the many coloured options available from specialists such as Standard Issue and Nineteen 46. Both labels have a wide variety of jumpers and cardigans in a rainbow of jewel tones.
Contrast in colour is important but don't be surprised by the contrast in textures that this trend also lends itself to as coloured knitwear teams effortlessly with leathers, lace and silk. Coop's PVC mini skirt in bright yellow for example, works well with a contrasting coloured knit top or cardigan. The khaki wool shift dress from Karen Walker is the perfect colour to wear with a contrasting bright pant for a nod to that dress over pants trend that's gaining momentum.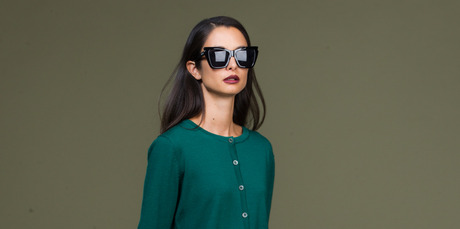 Stockists:
• Coop
• Deadly Ponies
• Fabric (09) 366 4528, Hyde (09) 378 0072
• Ingrid Starnes
• Julian Danger
• Karen Walker
• Kate Sylvester
• Le Specs 0508 EYEWEAR
• Liann Bellis
• Melie Bianco (09) 378 0072
• Mi Piaci
• Nineteen 46
• Sol Sana (09) 378 0072
• Trelise Cooper
• Witchery (09) 523 1335
• Zambesi
Stylist: Dan Ahwa
Hair and makeup: Katie Melody-Rogers using M.A.C. Cosmetics
Model: Lauren Smith from Red 11
Stylist's assistant: Zuzanna Edwards