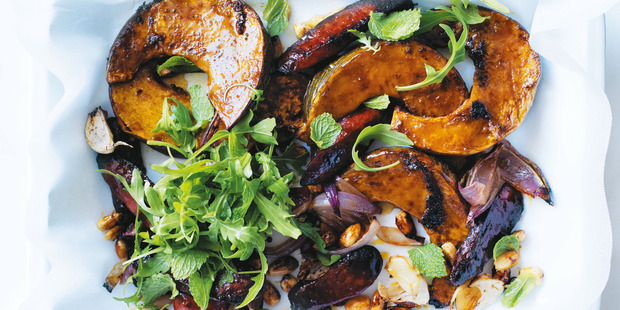 Hailing from the markets in Morocco, ras el hanout is a blend of as many as 50 spices. The making of ras el hanout is seen as an art, so combinations vary, but cinnamon, nutmeg, cardamom, cumin, cloves and allspice are commonly present. It's a simple and quick way to add flavour to anything from vegetables, poultry, fish and meat to rice and couscous.
Roasted pumpkin, chorizo and ras el hanout salad
• 1.5kg pumpkin, seeded and cut into wedges
• 4 x 100g air-dried chorizos, sliced
• 2 small red onions, cut into small wedges
• 8 cloves garlic
• 1/2 cup blanched almonds
• 1 Tbsp lemon zest
• 1 Tbsp lemon juice
• 2 tsp ras el hanout
• 2 Tbsp maple syrup
• 2 Tbsp extra virgin olive oil
• Sea salt and cracked black pepper
• 2 Tbsp red wine vinegar
• Wild rocket and mint leaves, to serve
Preheat oven to 200C. Place the pumpkin, chorizo, red onion, garlic, almonds, lemon zest and juice, ras el hanout, maple syrup, oil, salt and pepper on a large baking tray and toss well to combine. Roast for 30-40 minutes or until golden and cooked through. Divide the roasted vegetables between plates, drizzle with the vinegar and top with rocket and mint to serve.
Serves 4.
Tips and tricks
• Ras el hanout is available at specialty grocers, food stores, in spice shops and online.
• You can buy tahini paste from the health food aisle of supermarkets.
• Marinate lamb in the ras el hanout and honey mixture overnight, covered, in the refrigerator for extra flavour.
• Roasted pumpkin salad is a delicious meal in itself, but it also makes for the perfect side-dish to serve at the table with grilled chicken or meat.