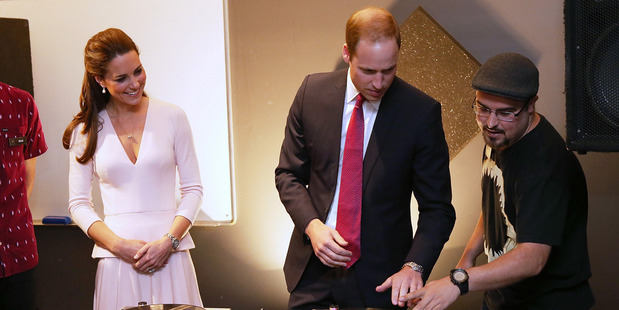 It's not the sort of day normally associated with royalty, but the Duke and Duchess of Cambridge gave it their best shot to show they could hang with the cool kids.
Scratching a beat, aerosol art and admiring scootering skills, the royal couple wowed the people of Elizabeth in a three-hour stopover in Adelaide.
The Duchess, in a dusty pink Alexander McQueen outfit, was presented with a posy of Australian native flowers by Lauren Stephenson, 6, from the Make-A-Wish Australia Foundation. She spoke at length to the young girl, who has been in remission for two years from bone cancer, before Prince William also joined in the chat.
At the Northern Sound System youth project, the couple watched an exhibition of breakdancing, singing and an indigenous dance project.
But first up was a hip-hop class where they were invited to try their skills at DJ-style "scratching".
Kate proved a natural at keeping the beat but the Prince was not in his wife's league.
"She was fantastic," workshop facilitator Shane Petersen said. "But he can fly a helicopter so it's horses for courses."
Outside the centre, William added a blue sky to some aerosol art and then watched a BMX and scooter display.
As daredevil riders did somersaults in the skate bowl, the royal visitor passed up a chance to try himself.
"He said he might stack it," said 15-year-old committee member from the Elizabeth Riders group Luke Haldenby.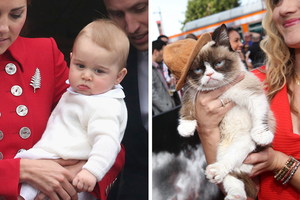 However, the royals were enthused about the gift of a skateboard for Prince George, the design by 16-year-old Zechef featuring boxing kangaroos and George's name in cursive script.
"He thought it was amazing, he loved it. Even Kate loved it too, she thought it was cool that it said 'George' on it," Luke said.
Other members of the riding group said they were impressed by Prince William's skills with the aerosol can, describing him as a "true Aussie".
- AAP

Prince William and Kate try their hand at DJ-ing at an Adelaide youth centre yesterday. Photos / Getty Images