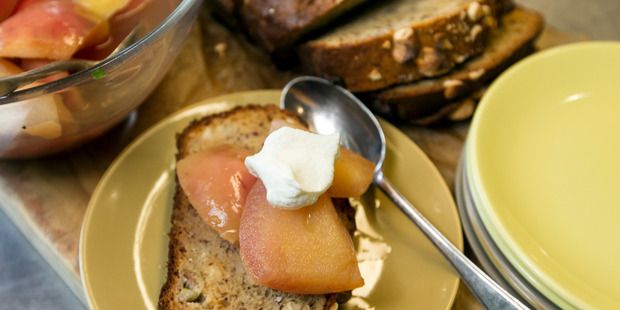 • 1 400g packet of banana bread premix
• 2 bananas, mashed
• 100g cashew nuts, roughly chopped
• 6 apples cut into quarters, skin on
• 1 lemon, zest and juice
• 3 tbsp honey
• Yoghurt, cream or icecream to serve
1. Make the banana bread as per the packet's instructions adding the mashed bananas and cashews. (Keep a few cashews to sprinkle on top before baking.)
2. Core and quarter the apples. Sprinkle with lemon juice to stop apples going brown.
3. In a pot, add honey, lemon zest and enough cold water to cover the apples.
4. Add apples and simmer until soft.
5. Remove from the liquid and continue to boil the liquid until it reduces (becomes thicker). Pour back over the apples.
To serve: Cut a chunky slice of loaf, add some poached apples and a couple of tbsp of syrup. Add yoghurt, cream or icecream.