Address:
Shop 10 Ponsonby Central, 136-138 Ponsonby Rd, Ponsonby
Phone:
(09) 378 7362
Rating out of 10:
Food: 7, Service: 8, Value: 7, Ambience: 8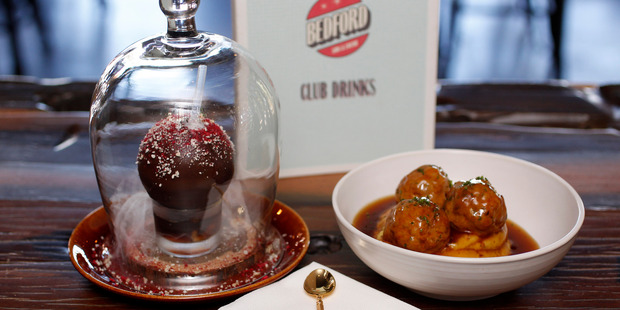 Bedford Soda & Liquor felt great from the start. Our friends were grinning like soon-to-be-satisfied cats, cocktails in hand, at a table overlooking Richmond Rd. Unlike many other establishments in Ponsonby Central, the place felt airy and light and the staff were chilled enough to do a few moves to the music.
All of this has much to do with the cocktail menu, which is long and enticing. Over the evening the four of us sampled the Daisy Tequila, Rosita Rocks, Georgia Mint Julep, Jasmine Green Tea Collins and a New York Silver Sour. All were good but mine, the Mint Julep, which came heaped with shattered ice and mint and tasted like fire at the first sip, looked the best. It also lasted right through dinner, melting slowly and holding that minted liquor taste right through. If I'd not been driving I would have had another.
As it should be with a bar, the atmosphere is cool and languid. We had to ask for a food menu. But when it arrived it was all on. Unlike the relatively fancy drinks menu, the food offerings are printed on a plastic-coated card and you tick your choices with felt-tipped pens.
It's all meatballs, including the vegetarian option, which could be off-putting, but no. You also have a choice of about five sauces or toppings and five carbohydrate accompaniments for each set of meatballs, and just for a change you can order them as sliders (one meatball per bun), or a sub (two meatballs).
We attempted to cover most options. Diana had the nutty vegetable balls, served on risotto with a pesto sauce to top it off, and was extremely happy. Malcolm chose the special, venison and cherry meatballs, served on mash and doused in tomato sauce. The meatballs were strong-tasting and rich, but it was the mash the rest of us lusted after. It was creamy, salty and with a good slug of pepper, giving every mouthful a real kick.
Brian had the beef meatballs with parmesan sauce and spaghetti while coveting my juicy pork meatballs served on a bed of creamy polenta the consistency of porridge. Even after I consented to swap half a pork ball for his beef, he ordered a pork slider so he wouldn't miss out (and somehow confused the system so much we ended up with three sliders: one with cheese sauce, one onion and the last, plain tomato).
And there's more. We also ordered two mediterranean and one caesar salad, plus two dishes of vegetables which, that night, were roasted red and yellow capsicums. Again, everything was simple but excellent.
Meanwhile the cocktails, wine and carafes of lovely fizzy (and free) soda water came at the flick of a finger or mild shout. By the time we finished, groaning with pleasure, only Brian was up for dessert. But when he got his chocolate liquor ball we all begged for a sample. The big, round ball of Bennetts of Mangawhai dark chocolate made a dramatic appearance under a glass cover, smoking with dry ice, and sitting on a liqueur glass full of espresso coffee, while inside lurked a healthy slug of vanilla liqueur and cream.
Needless to say, we all had a sip and a hunk of choc then staggered off contentedly, into the night.
Our meal: $289 for four sets of meatball meals, three sliders, four salads, two servings of vegetables and one dessert, plus five cocktails and seven glasses of wine.
Our wine: They take alcohol seriously at Bedford, though apparently the excellent list, with its marvellous $10 glasses of Volupta Montepulciano, is about to be modified.
Verdict: Bedford Soda does what it sets out to do with relaxed panache. The cocktails are fun, the service is friendly. And although they only do meatballs, these are terrific meatballs: moist and tasty with a line-up of great carb accompaniments, sauces and salads that not only soak up the alcohol, but also come together for a hearty, delicious dinner. Plus, the vegetarian option is great.
Follow Life & Style on Twitter and Facebook.