Take the fuss out of this family favourite and give lasagne a simple makeover.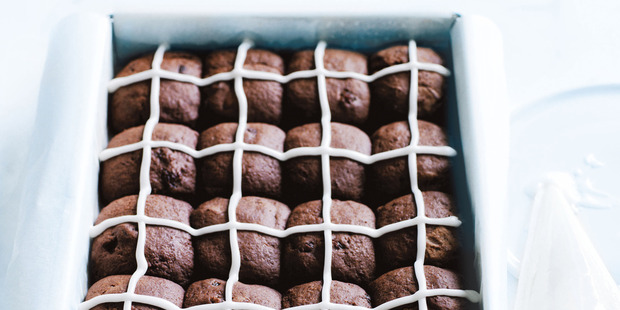 It's that magical time of year again - the days are getting cooler and we know our favourite furry-tailed visitor is just a hop, skip and a jump away. Brightly coloured foils are everywhere you turn in the shops, but we think there's something extra special about homemade Easter treats. These chocolate gifts are super-delicious and so simple, anyone can make them.
Makes 20
• 125g unsalted butter, softened
• 1 cup brown sugar
• 1 egg
• 1 tsp vanilla extract
• 2 cups plain flour, sifted
• 1 tsp baking powder, sifted
• ¼ cup cocoa, sifted
• 2 tsp cinnamon
• 1 teaspoon mixed spice
• ½ cup milk
• ½ cup sultanas
• 150g dark chocolate, chopped
• 1 cup icing sugar, sifted
• 1 Tbsp boiling water
1. Preheat oven to 160C. Beat together the butter and brown sugar with an electric mixer for 8 minutes or until pale and creamy. Add the egg and vanilla and beat well to combine.
2. Add the flour, baking powder, cocoa, cinnamon, mixed spice, milk, sultanas and chocolate and beat on low speed until a dough forms. Roll 2 Tbsp of the mixture at a time into balls and place in a lightly greased 20cm x 30cm tin lined with non-stick baking paper.
3. Bake for 20-25 minutes or until cooked. Allow to cool completely in the tin. Mix the icing sugar and water to form a paste. Place into a piping bag, snip a 5mm hole at the point and pipe a cross on to each cookie.
Tips and tricks
• When melting your chocolate, ensure the base of the bowl doesn't come into contact with the simmering water.
• Store the cookies, chocolate bark and the coconut rough refrigerated, in airtight containers, for up to 1 week.
• To give these treats as gifts, divide them into portions and place into boxes lined with non-stick baking paper. Tie with string or ribbon and label with a cute tag. You could even hide them as part of an Easter hunt!
Follow Life & Style on Twitter and Facebook.