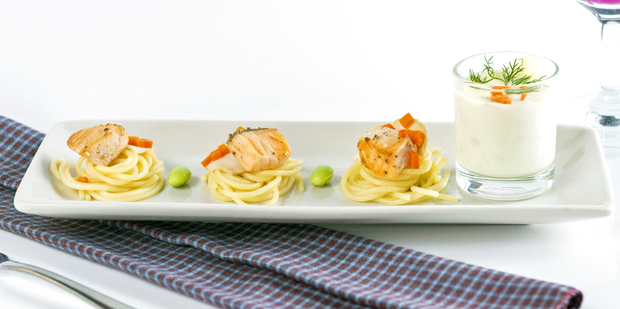 Premium New Zealand lamb, beef and seafood — from Waiheke Island in the north to Dunedin in the south — will be laid out for the the royal media pack tomorrow.
Ohariu Valley's Boomrock coastal lamb, Waiheke Island's Rangihoua Estate olive oil and New Zealand king salmon from either Akaroa or Marlborough Sounds will be among fare showcased at Rydges Hotel in Wellington to promote NZ produce and wine matches.
Prime Angus beef from Hawkes Bay was selected for its "high quality", and Southern Clams Company in Dunedin because it is "recognised as a pioneer in environmental responsibility in the industry", said Rydges spokeswoman Rhiannon Beavan.
"These suppliers are chosen either because we know they're the best from experience or because I was trying to get a balance over the country."
The food and wine showcase has been organised by Tourism New Zealand as part of a "very informal welcome" to international media.
"When they have free time, generally when the royals are having personal time, TNZ has put together an itinerary of optional tourism activities that the media can participate in should they choose," said Tourism New Zealand communications manager Deborah Gray.
"Our objective is to support and motivate them to write stories that promote NZ's offering as a visitor destination alongside their coverage of the royal visit."