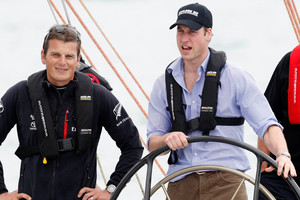 Wills and Kate will be put to work on former America's Cup matchracing yachts in Auckland next week.
A spokesman for the event confirms the Duke and Duchess of Cambridge will be "actively involved" on the boats just offshore in the Waitemata Harbour.
The course will be just metres from the waterside bars and restaurants in the Silo Park precinct.
Rounding out the crews will be America's Cup sailors, six teenage sailors from the Royal New Zealand Squadron youth programme and another six up-and-coming sailors hand-picked from Auckland yacht clubs.
Emirates Team New Zealand chief operating officer Kevin Shoebridge said 10 team members, including boss Grant Dalton and skipper Dean Barker, will be on board when Prince William and Kate Middleton take to the water.
Shoebridge said the short race course would be set up near the Viaduct Harbour and the public will be able to see the royal couple in action on the former America's Cup yachts NZL41 and NZL68.
"I hope that we have some good close racing, bearing in mind that at all time we have to be very safe and in control," said Shoebridge.
Prince William enjoyed the thrill of helming NZL40 on a tour downunder in 2010.
Explore Group chief executive officer Kit Nixon said the royal couple will be pitted against each other in an authentic America's Cup style race.
Said Nixon: "We would like to think that we were able to show the Prince a great time back in 2010 which he would now like to share with his wife."
The contingent of Emirates Team New Zealand sailors would be spread across both yachts.
Many had competed on the water in last year's America's Cup challenge in San Francisco.
It has not yet been confirmed whether Dalton or Barker would be driving the yachts but everyone would be "actively involved", Shoebridge said. They would be on the water for just over an hour and have two races, wind permitting.
After the match racing the royal couple will be carried in a Sealegs craft to Westpark Marina in West Auckland's Upper Harbour.
The Duke and Duchess of Cambridge and baby son Prince George arrive in Wellington on April 7 for a 10 day visit to New Zealand.