William, the Duke of Cambridge, made his first visit to NZ as a 9-month-old baby. His public outings are the stuff of legend, the first colourful draft of history. Less known are the secret outings when the young prince met and played with Kiwi kids — and nobody knew his real identity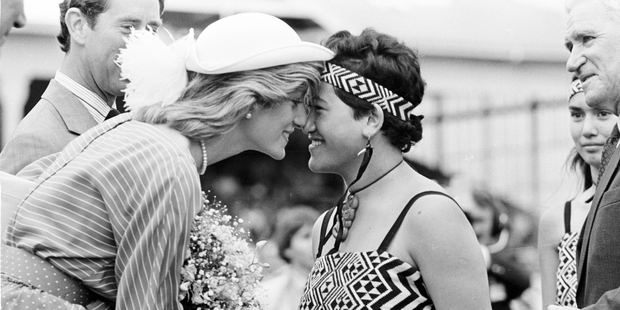 Sue Piper waits nervously on the vast Eden Park pitch. The 16-year-old from Stokes Valley has rehearsed the moment a thousand times over in her head. She can't afford to make a mistake.
She gazes around the ground. It is filling to capacity, thousands upon thousands of school children and adults filing into seats, standing on the grass. It starts to drizzle, a passing shower on a changeable autumn day. The traditional Maori costume affords little warmth. But the enormity of the moment masks any discomfort.
The chatter suddenly dies. The historic event has started. And there she is. The beautiful, young princess is in front of her. Their eyes lock as they gently move forward. Their noses touch, both smiling. The camera clicks. The teenager and the princess are the focus of international media as they share an intimate Maori greeting.
Barely 4km away, a car slowly pulls out of Government House in Mountain Rd, Epsom. Today, the driver is headed towards one of Auckland's best-known eastern beaches.
The early afternoon traffic is light. The vehicle finds a space in the near empty Mission Bay car park.
Its passengers get out; a well-built man, a middle-aged woman, both casually dressed, and a baby. They head to the play area. The baby has a cherubic face and wispy blond hair.
No doubt, like any other 9-month-old, he holds tight to the swing and squeals with delight as it glides through the air. The woman with the matronly soft curl to her brown hair catches the seat then pushes it forward.
A man stands close by, watching. The conversation between the couple is easy; the royal tour, the gentle pace of New Zealand, deserted beaches. The fresh sea air weaves its magic.
Like every other family, they probably leave the playground and take a walk along the footpath flanking the eastern beach, waves gently lapping the stony foreshore. Unlike every other family, a chauffeur awaits when they return to the carpark. This was April 1983. Prince Charles had come to New Zealand with his beautiful wife Diana and baby son William, at the tail end of a long, seven-week tour Downunder. Thousands flocked to walkabouts and public events to catch a glimpse of the woman elevated from nursery teacher to princess in a few short years.
A fortunate few chatted with her behind the cordons, snatching moments of conversation about motherhood,her bonny baby prince. Royal biographer Andrew Morton describes the 1983 tour as a real proving ground for the young bride. It was also a tour where the young Prince William stole the show. As if scripted, he sealed this highly successful inaugural tour with the photo opportunity for which the world's media had waited — he crawled publicly for the first time on the lush green lawns of Government House.

Princess Diana and Prince Charles with William on the lawn of Auckland's Government House. Photo / NZ Herald

William was surely one of the most recognisable babies in the land and yet somehow the young prince went out on secret sorties most days throughout his New Zealand visit — and no one gave him or his "parents" a second look.
According to Lady Norma Beattie, wife of the late Governor-General Sir David Beattie, royal nanny Barbara Barnes would leave Government House each day for an outing with her young charge.
"The nanny and the policeman used to go off with the baby every day and they'd go to the beach or go shopping," says Lady Beattie. Royal watcher and author Susan Maxwell says some of the secret inner-city destinations included the popular Mission Bay and Takapuna beaches.
The detective and Barnes' ordinary guise meant they could easily walk the royal baby along main shopping areas, visit playgrounds or enjoy the city's beaches without raising suspicion.
Says Lady Beattie: "No one ever recognised him." The outings remained a firm secret from the public and the trio were never photographed on the outings during their visit.
Later nannies would employ this tactic in Britain with two simple rules: never go back to the same place two days running and always take different routes.
Diana did manage to leave Government House unnoticed for a daily swim across town at a house in St Marys Bay. But for the most part, her every move was publicly scrutinised.
The nanny's ruse, which went ahead with the blessing of Charles and Diana, gave William freedom that his parents could not enjoy.
It was, says Lady Beattie, all about keeping their stay in New Zealand as relaxed and normal as possible. "Charles and Diana were envious that they could never do that," she confides.

Prince William arrives in NZ in 1983 with his nanny, Barbara Barnes. Photo / Getty Images
Morton, who was with the British media pack, recalls the tour being a resounding success for the royal family and the public.
"They seemed very happy there. Little William was bouncing up and down."
It was something of a proving ground for Diana, he says, who arrived in Alice Springs at the start of the tour shy and prone to sunburn. She left Auckland an accomplished young woman.
"It was her first major tour and in those days, all eyes were on her and I think she did a brilliant job."
Maxwell predicts the interest in next month's tour will be unprecedented. "Thirty years ago, Charles and Diana were huge. Thirty years later William and Kate are galactic."
William has obviously learned from the history of his parents' relationships and public relations disasters, she adds.
He and Kate are incredibly popular in their own right, and a much better team than Charles and Diana ever were.
She says this will be reflected in the media contingent extending to representatives from Asian, American and European news organisations. "It was a closed shop back 30 years ago."
Sue Piper is now 48, and can't believe it's three decades since she met the royal family.
She is married with a new name, Sue Tane, has a family of her own, a career in banking and is looking forward to welcoming her fourth mokopuna into the world.
But the hongi with Princess Diana remains a special moment in her life.
"I have to be honest it was probably a nervous smile more than anything else," she says, "but I was very proud to be involved in welcoming the royal couple."
When William and Kate go walkabout in the capital she is planning on joining the crowds — but she holds a secret wish.
"Wouldn't it be funny if I met Kate this tour and we both did a hongi and there was a photo of Princess Diana and I 30 years ago and one the present day with Kate?"
Media descend in their hundreds
News organisations from around the world will descend on New Zealand for the baby Prince George's much-anticipated first official engagement.
With a week to go before the Duke and Duchess of Cambridge arrive in Wellington for their 18-day tour of Australasia, around 500 media applications have been received for the New Zealand leg of the tour.
Royal Visit Office media manager Allen Walley says there is traditionally a strong contingent from the United Kingdom that accompanies the royal family on official state visits, but he has also received approaches from Asian, American and European media.
They include global American television network CNN, a Japanese newspaper and American and European magazine reporters and photographers.
Walley says a visit by the Queen may have generated a similar level of interest in past years but this level of excitement is unprecedented in recent times. "It's not unexpected given the huge international profile the Duke and Duchess have and, of course, it will be Prince George's first official overseas visit."
The young royal family will fly into Wellington International Airport next Monday. They will be based at Government House in Wellington and fly daily to engagements.
Prince George and his parents will start the tour with a special Plunket "coffee group" at Government House on April 9, where handpicked parents will gather with their 10-month-olds and a Plunket nurse to discuss parenting issues.
The couple's itinerary also includes opening a sports centre in Cambridge, visiting aeronautical and marine companies, attending civic ceremonies and enjoying outdoor adventure activities.