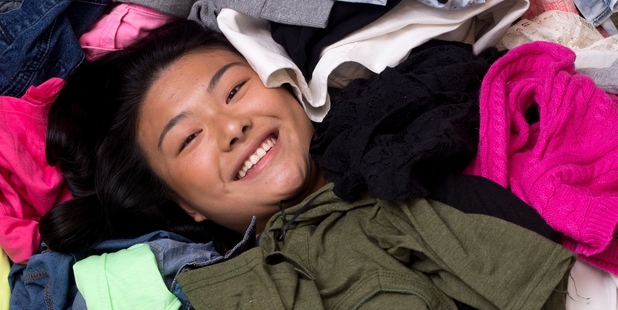 From the washing machine to the hanger to the closet - AUT University undergrad Christy So does not believe in ironing what she wears.
"I like wearing clothes that are un-ironed because they are more comfortable," the 19-year-old said.
"Besides most of the clothes nowadays don't really require ironing and the straight ironed look is also less cool."
Miss So also felt ironing was a "waste of time" and "wouldn't make much difference" to how the clothes would make her look.
"There's lots of better things we can do instead of wasting time ironing our clothes, and I think a lot of my friends feel the same," she added.
About three quarters of New Zealanders wear most of their clothes un-ironed, and many regularly forget to hang out washing and have a drawer of odd socks, a survey has found.
The Canstar laundry detergent customer satisfaction survey of 2106 people also found Aucklanders were most likely to forget to hang out the washing and have to re-wash it.
"The survey has revealed that we are a wrinkled population," said Canstar Blue general manager Derek Bonnar. "Surprisingly there are more men [30 per cent] than women [25 per cent] taking to their ironing board."
The YouSource survey showed youth have the most trouble with laundry duties, with more than a quarter of under 30s confessing to regularly forgetting to hang out clean washing and having to rewash it compared to just 5 per cent of baby boomers.
And Mr Bonnar added: "Thirty-nine per cent of Gen Ys claim to have a drawer full of odd socks at home, their pairing claimed by washing machine compared to 21 per cent of over 50s."
Price is the key factor on laundry detergent, with 63 per cent of Gen Ys and 54 per cent of Gen X hunting for bargains rather than going for brands or following washing machine manufacturer's recommendations.
Nearly threequarters chose laundry powder as their preference as opposed to 17 per cent who used liquid detergent. Shotz beat last year's laundry powder winner Ecostore on overall satisfaction ratings, while Surf emerged as the top liquid detergent choice.
Laundry habits
Aucklanders (most likely to):
Forget to hang out the washing and have to re-wash it.
Buy laundry detergent based on price and how it smells.
Buy detergent brand recommended by manufacturer.
Waikato (most likely to):
Have a drawer full of odd socks.
Wear clothes un-ironed.
Wellingtonians (least likely to):
Forget to hang out their washing.
Use different detergents to wash different fabrics.
Choose a low irritant brand.
Cantabrians (least likely to):
Have a drawer full of odd socks wear clothes un-ironed.