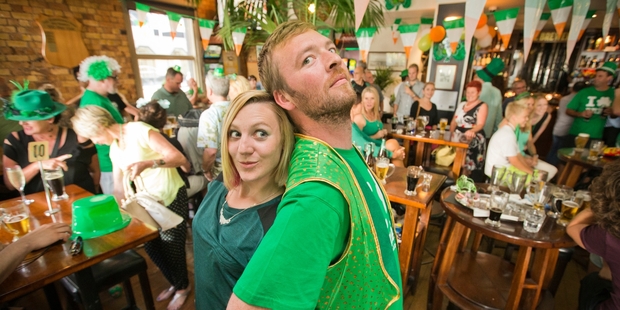 Febe Homes and Paul Murtagh were just some of the thousands of people decked in green hats and shamrocks who celebrated St Patrick's Day yesterday.
They spent the day bar hopping Irish pubs throughout central Auckland, including the Shakespeare, the Fiddler and the Albion Hotel.
"It's the greatest day in the world," said Mr Murtagh, 30, from Dublin.
Mr Murtagh came to New Zealand for the Rugby World Cup three years ago and loved it so much he decided to stay.
His St Patrick's Day began at 8am and he planned to go all through the night.
He was not alone with his early start, with a host of Irish establishments offering traditional Irish breakfasts to start the day.
A manager of Danny Doolan's Irish pub near the Viaduct said trading had been busy all day.
The Auckland Irish Society celebrated at Fowlds Park in Mt Albert with all-day live music, a bar and traditional Irish food.
As well as Auckland's Sky Tower, several world landmarks - including the Taj Mahal, the London Eye wheel, the Leaning Tower of Pisa and the Sydney Opera House - were to be bathed in green light overnight.