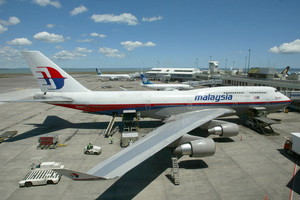 A measles alert has been issued for passengers who travelled on a Malaysia Airlines flight from Kuala Lumpur to Auckland last week.
Auckland Regional Public Health Service (ARPHS) said today passengers on the flight may have been exposed to measles from an infected fellow passenger.
Medical Officer of Health Dr Catherine Jackson confirmed one measles case on Flight MH0131 from Kuala Lumpur to New Zealand, which arrived in Auckland at 1pm on Feb 20, at 1pm.
Those most at risk of catching measles were passengers on the flight who sat closest to the case, and they were all being contacted by ARPHS, said Dr Jackson.
"People who sat closest to the case have the highest risk and are our first priority, however measles is very infectious and so we want all passengers to be aware of this exposure."
ARPHS warns measles is infectious before the rash appears and is very easily transmitted through the air.
It is four times more infectious than influenza.
Dr Jackson said passengers who had caught measles from this flight could already be unwell and could experience symptoms anytime until Thursday March 6.
"Any passengers on that flight who feel unwell should phone their GP or call Healthline on 0800 611 116 for advice."
It was vitally important to call first before seeing a doctor because measles was highly infectious, and people with measles could infect others in the waiting room, she said.
ARPHS has confirmed more than 40 recent cases of measles in Auckland and over 1500 contacts traced.
An average of one in 10 cases needs hospital treatment.
Last week's case had no connection to the recent spate of Auckland cases, ARPHS confirmed.
ARPHS continues to urge people in the Auckland region to check their immunisation records to see if are fully immunised with 2 measles or MMR immunisations. `
"There is no treatment for measles - the only protection, and the best way to avoid its complications, is to be fully immunised," said Dr Jackson.
- APNZ