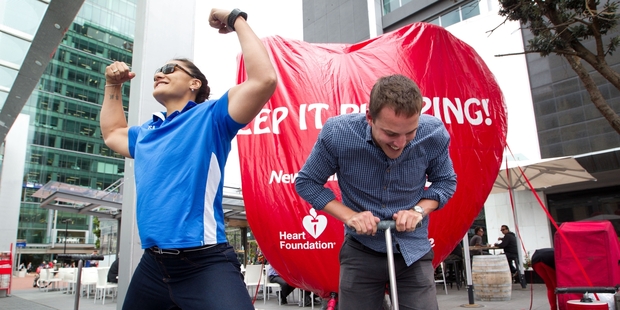 Taking on a world champion in a test of fitness is a futile way to spend Valentine's Day.
Pedestrians in Queen St yesterday did double-takes as Olympic and world shot-put champ Valerie Adams trash-talked them into a challenge.
A giant inflatable heart was put up yesterday to mark the Heart Foundation's Heart Week, with pumps set up nearby to help fill it with air.
Adams set the benchmark with 98 complete pumps in a 30-second period - an effort way beyond efforts observed by the Weekend Herald yesterday, although one passerby had bettered it with 101.
"I think he was one of the [rugby league] nines boys ... he had a muscle shirt on," said Adams, who also pointed out she was up late the previous night at the Halberg Awards.
"It's harder than you think, after about 20 seconds you start dying. It's good to burn off a few calories."
Adams said it was great to attend the Halbergs and celebrate New Zealand sport, and she was thrilled for Lydia Ko, who ended her own seven-year reign as sportswoman of the year before going on to capture the supreme award of the night.
Adams is now focused on her first competition next Saturday, after which she will decide whether to go on to the World Indoor Track and Field Championships. As an ambassador for New Zealand Post, Adams said she was thrilled it was the principal sponsor of Heart Week.
"Obviously with Pacific Islanders, heart problems are a big problem, and we want to be able to target that."
She would not let the Weekend Herald leave without having a crack at her 98 mark, and warned this reporter off cheating through improper technique.
When it became apparent that such vigilance wouldn't be needed, the double Olympic gold medallist hammed it up for the crowd before a lowly effort of 78 was recorded.