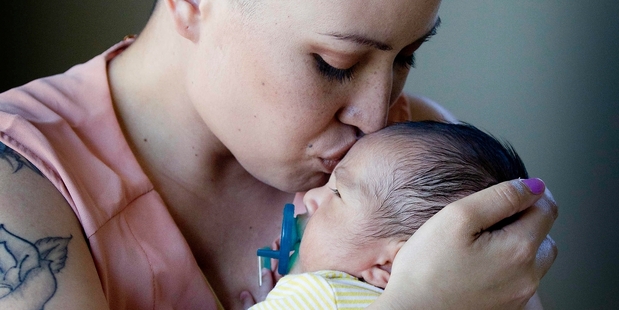 Jennifer Doolabh knows her battle against breast cancer began too late.
The 27-year-old Hamilton mother, undergoing chemotherapy for terminal cancer, is urging women to be vigilant about breast cancer ahead of World Cancer Day.
Mrs Doolabh noticed a sore on her nipple was not healing but felt shy about getting it checked.
"Cancer never crossed my mind because I was only 25, and no one in my family had had cancer," she told the Herald yesterday.
Read more about how a major New Zealand study has produced encouraging findings on how to treat an aggressive form of breast cancer that affects younger women in Breast cancer breakthrough.
By the time she was diagnosed months later, the cancer had spread.
"I left it too late. I knew something was kind of wrong, but I didn't think it was cancer, and I didn't check for lumps."
She began a year of chemotherapy and radiation. Last year, while undergoing more radiation treatment, she learned she was pregnant.
Mrs Doolabh made the courageous decision to stop treatment until after she gave birth, even though it allowed the cancer to spread further.
Her third child, Matthias, meaning "God's gift" in Hebrew, was born to her and husband Aneal two days before Christmas.
Mrs Doolabh shared her journey online, inspiring some of the 16,000 Facebook followers to get checks.
"I'm dying at the moment, and I've got three beautiful children and a husband I'm leaving behind. It's just so important to check your breasts."
New Zealand Breast Cancer Foundation spokeswoman Adele Gautier said women needed to report any changes to their doctor and those over 40 needed regular mammograms.