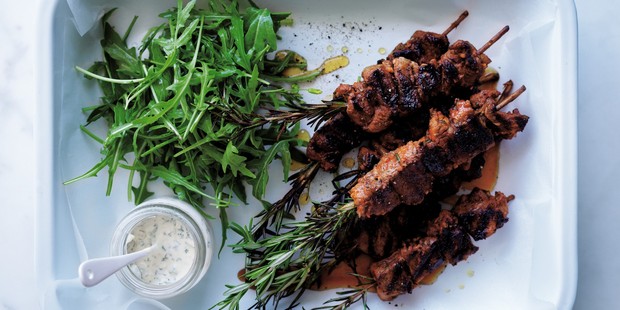 Serves 4
• 8 long rosemary stalks
• 2 Tbsp lemon juice
• 2 Tbsp extra virgin olive oil
• 2 cloves garlic, crushed
• 2 tsp smoked paprika
• 800g lamb rump, trimmed and chopped
• Sea salt and cracked black pepper
• ¾ cup store-bought tzatziki
• ½ cup mint leaves, finely chopped


1. Remove three-quarters of the rosemary leaves from each stalk. Chop 1 Tbsp of the leaves and set aside. Soak the stalks in water for 10 minutes.
2. Preheat a chargrill pan or barbecue over high heat. Place the lemon juice, oil, garlic, chopped rosemary and paprika in a bowl and mix to combine. Thread the lamb on to the rosemary skewers and brush with the paprika mixture.
3. Sprinkle with salt and pepper and cook for 2-3 minutes each side for medium or until cooked to your liking. Mix the tzatziki and mint in a bowl and serve with the skewers.


Tips and tricks
• The rosemary skewers infuse the lamb with a lovely flavour. You can also use regular wooden or metal skewers.
• Soaking the skewers before threading them with meat prevents them from becoming black and charred when grilled.
• Use the remaining rosemary leaves to flavour olive oil or use it to marinate meats.
For more recipes visit the Donna Hay website, www.donnahay.com.