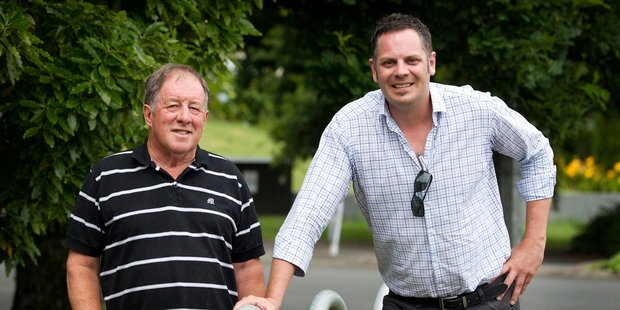 Ron Wilson (left) and Ian Trust have had bowel cancer, and were lucky to catch it in time to have effective treatment. Photo / Christine Cornege
Ian Trust spent six months with a sore stomach and tiredness, but despite having a family history of bowel cancer he ignored the symptoms, thinking he should just "harden up".
It was only on the insistence of his wife and GP that he eventually got it checked and doctors discovered a tumour that had been growing for up to five years.
Had he delayed diagnosis for another three months the cancer would have spread, possibly to a terminal point.
The 39-year-old Hamilton salesman says that had he acted on the warning signs earlier he might not have had to have chemotherapy, which left him with nerve damage in his arms and legs.
"As a normal Kiwi male I ignored a lot of those symptoms and put it down to burning the wick at both ends."
Another bowel cancer survivor, Ron Wilson, said he was fortunate his cancer was caught early after doctors found it by accident when they removed his appendix.
The 67-year-old pensioner said as a consequence he didn't need chemotherapy and has been free of cancer for 16 years.
But he still has a colonoscopy every three years to check for cancer.
He said his mother survived bowel cancer after him, at the age of 84, and even though Mr Wilson already had it, nobody in the family suspected his mum would get it.
"If someone in your family has had it, for God's sake do something about it."