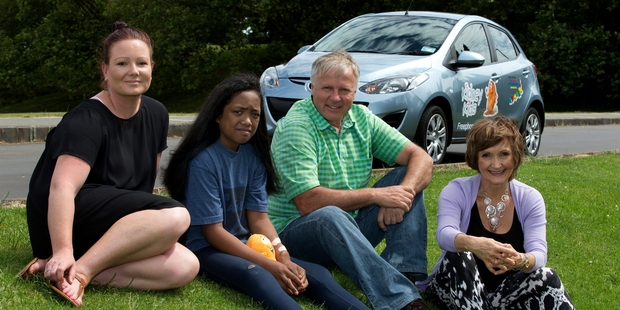 The father of a 12-year-old girl with serious kidney problems had to drive a 1200km round trip from Dannevirke to Auckland each weekend to be with his daughter and wife.
For over a year, Barry Peters would leave home after work on Friday and drive 600km to Auckland's Ronald McDonald House to see his daughter Jamie, who has an aggressive form of focal segmental glomerulosclerosis (FSGS) which can cause kidney failure. He would make the return trip on Sunday.
However, last month he quit his job as a roadworker because he didn't want to be separated from them for any longer.
"It just got to the stage where I couldn't even concentrate on work," said Mr Peters. "I was just wondering about what might happen up here."
Jamie's condition was manageable at home in Dannevirke until about two years ago, but since last April she has had to stay in Auckland.
The Peters have been helped through Jamie's ordeal by Auckland-based charity Kidney Kids.
The charity has provided financial, emotional and physical support to the family, but a lack of resources has until now limited the amount of support Kidney Kids could provide the Peters and families like them.
However, thanks to the gift of a car by the New Zealand Toy Distributors Association, Kidney Kids' support staff will now be able to travel the country to offer support to people like Mr Peters.
Courtanay Gray from Kidney Kids national support said the new car was a major boost to the charity.
"It's huge. It means we can actually go to families instead of just calling them."
Despite having had the car for less than a month, Ms Gray had already been to Tauranga and Whakatane to visit patients and their families. The charity planned to visit all the major cities in New Zealand next year.