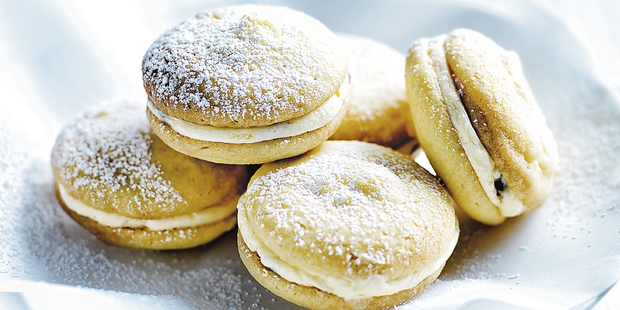 Makes 16
• 175g unsalted butter, softened
• ¼ cup icing sugar
• 1 tsp vanilla extract
• 1 cup plain flour, sifted
• ¼ cup cornflour, sifted
Passionfruit buttercream
• 60g unsalted butter, softened
• ½ cup icing sugar, sifted
• ½ cup passionfruit curd (see recipe above)


1. Preheat oven to 180C. Mix together the butter, icing sugar and vanilla with an electric mixer and beat for 5-6 minutes or until light and fluffy.
2. Add the flours and beat until combined. Place the mixture into a piping bag fitted with a 1.5cm plain nozzle and pipe 10 x 4cm rounds on to baking trays lined with non-stick baking paper.
3. Bake for 6 minutes, or until golden. Allow to stand for
5 minutes, then transfer to a wire rack to cool completely.
4. To make the buttercream, beat the butter with an electric mixer for 4-5 minutes or until pale and creamy.
Add the icing sugar and beat for 5-6 minutes or until pale and fluffy. Add the curd and beat for a further 1 minute or until just combined. Spoon buttercream on half the biscuits and sandwich with the remaining biscuits.


Tips and tricks
• You'll need about six passionfruit to get the amount of pulp required to make the passionfruit curd.
• Traditionally made with lemons, this twist on the classic curd can be used in desserts, to fill cakes and tarts, or serve with crepes.
• Fold the curd through yoghurt and serve it with store-bought meringues for a quick dessert.
• Store the curd in airtight jars in the fridge for up to 2 weeks.
For more recipes visit the Donna Hay website, www.donnahay.com.