Each week Rachel Grunwell tries a new fitness challenge to bring you the lowdown.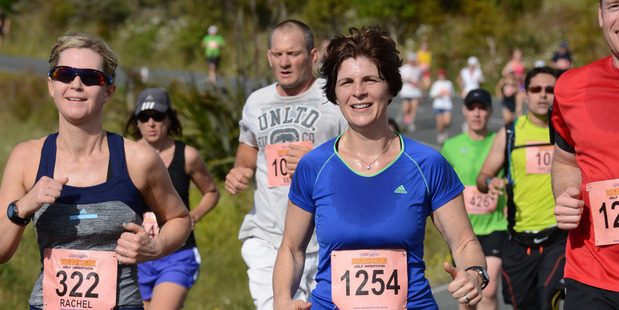 Kerikeri Half Marathon
What is it? A 21.1km event in Kerikeri held on November 16. It's organised by Sport Northland and owned by the Kerikeri Striders. Aucklander Sasha Daniels won, clocking 1h 14m 18s. Participants raised about $20,000 for the Cancer Society.
What's needed? Registration, running gear.
The experience: The Kerikeri half is a scenic course, starting amid picturesque rolling green hills with cows, trees, vineyards and orchards. It's in the Bay of Islands, in an area famous for the country's oldest stone building, The Stone Store.
I arrive with the Get Running club from Auckland. We're among 2500 walkers and runners. Also from Auckland this year is a group running in remembrance of Tina Stokes, a wonderful woman taken by cervical cancer. There are some Whangarei Girls' High School students and I spot Shortland Street actor Tyler Read (Evan Cooper). Actually most of the feet here are from out of town.
But the star of the day would have to be a great-grandpa from Kamo. Colin Thorne, 89, the oldest participant, ran the course in 2h 52m - making him the first home in his 80+ category. What's also incredible is that he ran the New York Marathon just two weeks prior and he was the oldest runner out of 47,000 there, too.
He tells me a doctor replaced his left knee six years ago and told him to give it up, but he just can't. He came to the sport aged 64, so he's keen to keep going as long as he can.
Kerikeri was his 93rd half-marathon and he's run 47 full marathons. He calls Kerikeri a corker course, and the people who run it are real friendly.
He asks how this rookie runner did on the day and I tell him I got a personal best time - 1h 54m 33s - the 30th woman home in my age group (out of 122) and I'm chuffed, given I ran the adidas Auckland Marathon two weeks prior and my legs still beg for recovery.
He tells me I didn't do too badly. I tell him I doubt I'll ever beat his personal best half-marathon time (1h 35m, which he did in his 60s).
He says a few people remarked at Kerikeri that he's amazing. He thinks the fuss is rather neat.
"There are so many people that give up because they have an ache in their toe or can't walk to the letter box. So I hope I encourage others to just keep going."
Colin and I later chuckle about the Kerikeri course. It's billed as a fast race because it's got some great downhills, but there are also some colossal uphills. Colin will run it next year, too, and you'll likely spot him at the post-race street-party, inspiring people to keep going.
How much? Registration for an individual next year will be about $49 (early entry) or $67 (late entry). Club and team entry prices also available.
Worth it? Great race, great place, great people.
Try it: Next year's event is on November 15. www.runwalkseries.co.nz
Rating: 10/10.
Rachel wears: adidas Stella McCartney Stu Perf Tank, $130, and Stu Tights, $120, from Platinum Sports Co. in Victoria Park Market, Auckland, ph (09) 302 1866, www.platinumsports.co.nz
Oakley radarlock glasses, $329.95, www.oakley.com