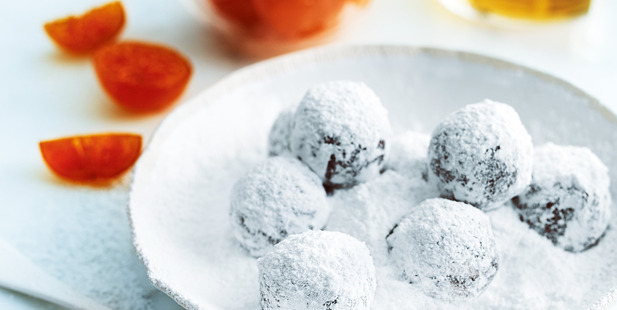 Makes 20
• 200g store-bought amaretti biscuits
• ½ cup dried cranberries
• ½ cup chopped candied clementines
• 2 Tbsp butterscotch liqueur
• 200g dark chocolate, melted
• 1 cup icing sugar, sifted


1. Place the amaretti, cranberries, clementine and liqueur in a food processor and process to combine. Place the mixture in a bowl with the chocolate and mix to combine.
2. Refrigerate for 10-15 minutes or until just set. Using a tablespoon, roll the mixture into balls.
3. Roll the truffles in the icing sugar and place on a baking tray lined with non-stick baking paper. Refrigerate for 1 hour or until set.


Tips and tricks
Store the truffles in the refrigerator and bring to room temperature for 30 minutes before serving.
• Amaretti biscuits are almond-flavoured macaroons, available at supermarkets and delis.
• Candied clementines are a variety of mandarin that has been simmered in sugar syrup, creating a sweet, glossy preserved fruit. They're available at delis and cheese shops.
• Warm a tablespoon in hot water and dry it, to help with rolling the truffles. If the mixture gets too soft while rolling the truffles, return it to the refrigerator for 10 minutes.
For more recipes visit the Donna Hay website, www.donnahay.com.