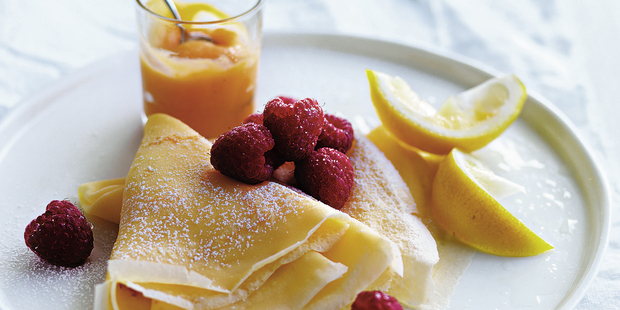 These thin, golden crepes, folded to enclose sweet fillings, are irresistible both for lazy Sunday breakfasts and decadent desserts - and they're simpler to master than you may think.
Makes 16
Basic crepes
• 1 cup plain flour, sifted
• 2 Tbsp caster sugar
• 4 eggs
• 1 cup milk
• 1 cup pouring cream
• Icing sugar, for dusting
• Fresh raspberries, lemon wedges and store-bought lemon curd, to serve


Step 1. Place the flour and caster sugar in a large bowl and mix to combine. Set aside. Place the eggs, milk and cream in a bowl and whisk to combine. Gradually add the egg mixture to the flour mixture, whisking until smooth. Allow the batter to stand for 20 minutes.
Step 2. Heat a lightly greased 22cm non-stick frying pan over low heat. Add ¼ cup of the batter and tilt to coat the base of the pan. Cook for 2-3 minutes, then gently turn the crepe using an egg flip. Cook for a further 1 minute or until just cooked. Place the crepe on a sheet of non-stick baking paper, cover with a tea towel and repeat with the remaining batter, lightly greasing the pan between each crepe.
Divide between serving plates, dust with icing sugar and serve with the raspberries, lemon wedges and lemon curd.


Tips and tricks
• Crepes can be made 2-3 days in advance. Stack them on top of one another, cover with plastic wrap and store in the refrigerator until you're ready to serve. To reheat, wrap crepes in foil and place in the oven for 10 minutes at 150C.
• For citrus-flavoured crepes, add some finely grated lemon or orange rind to the batter at the end of step 1, before allowing to stand.
• For savoury crepes, omit the sugar and add 1 tsp of sea salt to the batter at the end of step 1, before allowing to stand. Fill savoury crepes with ham and cheese or sauteed mushrooms, fresh herbs and ricotta.
For more recipes visit the Donna Hay website, www.donnahay.com.