To hear more tweets build Greig Morgan's simple bird feeder.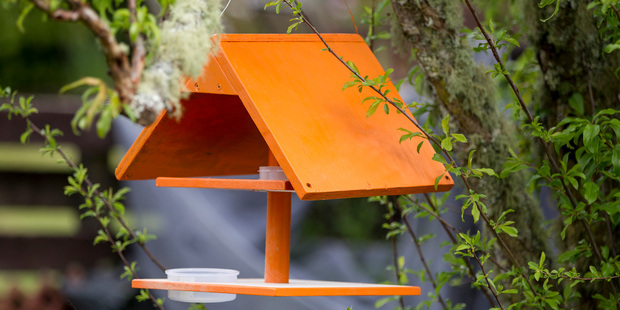 You're probably already throwing unwanted crusts on the lawn and telling the cat not to be naughty, but there's another way to attract more feathered friends to the garden.
With spring properly here, you could knock out a couple of these bird feeders for strategic spots.
Step 1
With the aid of a square, measure and mark out two tiers on your sheet of plywood, with the bottom the larger of the two. I cut the bottom tier 300x300mm and the top 260x260mm, along the waste side of the pencil line.
Step 2
To find the centre point for the centre dowel, mark across diagonally from corner to corner and pre-drill a 3mm hole in the bottom piece for the dowel to be fixed to, then drill a 35mm hole for the top tier. Change the hole saw size to suit the appropriate food and water container then cut out on the tiers. I drilled mine on opposite corners.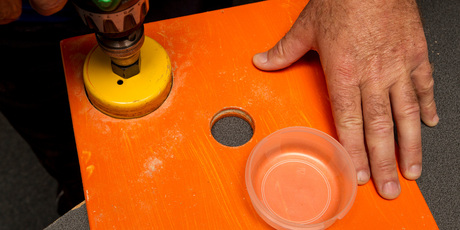 Step 3
Measure and cut your dowel to length. I cut mine about 300mm long, then measured the halfway point and tacked in four nails to help hold the tier in place for the glue to set.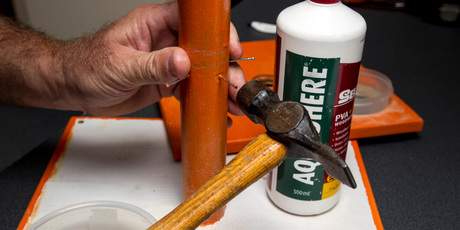 Step 4
Measure, mark and cut two pieces of plywood to the same size as the bottom floor (300x300mm) then cut the thickness off on one piece (13mm) to make the two roof pieces the same size when overlapping and fixing the roofing together with evenly spaced screws.
Step 5
Using the 90 degree on the square mark and cut out two triangles. These provide a brace at each end. Fix from the underside.
Step 6
Measure and cut to length the 90x20mm top plate (which is screwed to the top of the dowel) to fit snugly between the two roof bracing triangles.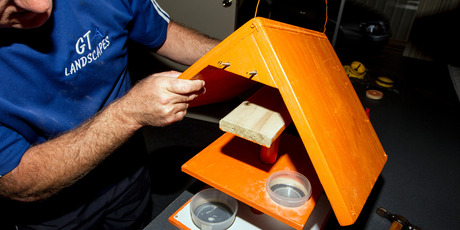 Step 7
Half-fix in a screw to the front and back of the roof, then cut a length of wire long enough to hang on a tree branch, wrap wire around the screws and fully fix the screw.
Fix a couple of nails to one of the tiers to hold some fruit in place, fit the water and food containers in the holders and fill with birdseed and water. Add some fruit and watch the birds come flocking.
Materials
• 13mm marine ply
• 35mm dowel
• 90x20mm pine (top plate)
• 30mm panel pin nails
• Exterior wood glue
• 40mm galvanised screws
• Galvanised wire
• Water & food containers with lip
• Paint
• Tools
• Mitre saw
• Screw gun
• Hole saw set
• Tape measure
• Pencil
• Pliers
• Hammer
• 120g sandpaper
• Paint brush