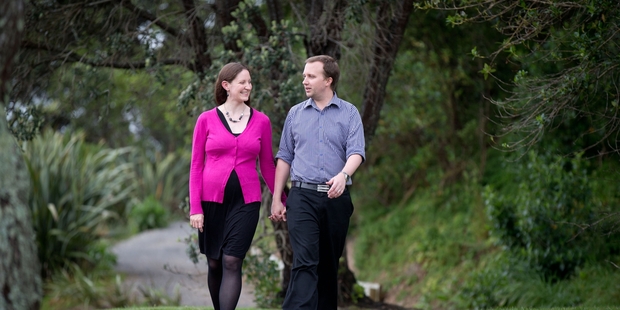 A flood of support has given Jared Noel faith that he can keep cancer at bay for long enough to hold his yet-to-be-born daughter.
The Herald yesterday reported how friends, family and complete strangers had rallied around to raise more than $100,000 in just two days in a bid to help the 32-year-old extend his life long enough to meet his daughter who is due early next year.
By last night that amount had increased to more than $140,000.
One message with a $50 donation on the Givealittle website was typical: "With my fervent wish that you are given the time you need to meet and get to know your wee daughter".
Dr Noel, a physician at Auckland City Hospital, has been battling bowel cancer for five years. Despite knowing it was terminal, he and wife Hannah decided to try for a baby through IVF last year in the belief he would be there for her early life.
But last week, the couple were left devastated by the news that Dr Noel's cancer has spread rampantly in his liver and he was unlikely to live past Christmas without further treatment.
Friends started the fundraising drive to help him raise $60,000 for the costly cancer-inhibiting drug Avastin, which will hopefully extend his life past January 21, when his wife is due to give birth.
Yesterday the couple said they had been given a lift by the 1500 donations that have come in such a short time.
"One of the things that I have to remind myself of is ... nothing has really changed in terms of Jared's disease or his diagnosis," Mrs Noel told the Herald last night. "But our ability to do something about it has been enormously helped by the generosity of people ... it was a thing that we couldn't do by ourselves ... so it's definitely a big load off our minds."
Dr Noel is set to receive his first round of Avastin next Wednesday, with fortnightly treatments scheduled for the next 20 weeks.
- additional reporting Nicholas Jones