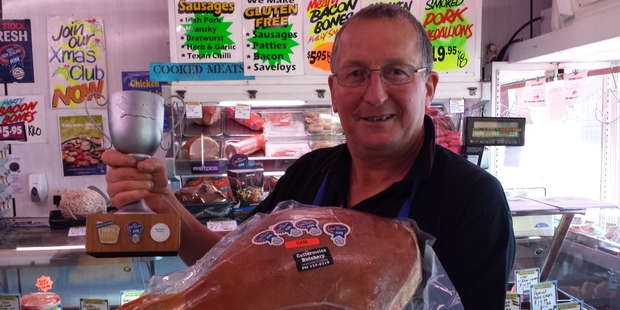 A sugar-cured, old-fashion leg ham on the bone from a Canterbury butchery has taken out the title of the best ham in the land.
The very experienced Cattermoles Butchery in Kaiapoi was picked as having the best ham leg and earned the top gong of the 100% New Zealand Ham of the Year.
Cattermoles owner, Chris Beach, said he was "thrilled" to have improved on his silver from last year and take out the top pork prize from over 60 entries around the country.
"This award confirms that what we're doing can't get any better," said Beach, who has nearly 20 years meat experience.
Judges said Beach's traditional ham had the best balance of flavours.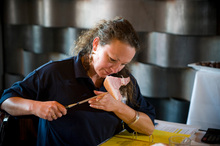 "Sweet and salty, combined with wonderful texture, creating a well-rounded and crafted ham experience," meat expert Matt Grimes explained.
Beach, who won a couple of prizes for his bacon earlier this year, said his secret was in a patient approach.
"Our ham is made the old-fashioned way, slowly prepared over six or seven days with the finest quality ingredients.
"I adjusted the recipe slightly when I first took over the business 19 years ago, and it's stayed the same ever since."
For this year's winning ham, Beach put the locally raised pig in to a holding brine for six days. It was the delicate balance of sugar, salt and water in that brine that made all the difference, he said.
The ham was then smoked for six to eight hours and cooked for 12 to 18 to retain the flavour with out drying the it out. When the ham was done it looked beautifully bronze on the outside and a medium pink when sliced.
The other main category in the contest of best NZ boneless ham was won by Auckland family butchery, Pokeno Bacon for their sugar cured, Manuka smoked beauty.
The panel of four grand final judges said the Pokeno sliced ham delivered in every aspect of aroma, texture, taste and colour.
"This was an absolutely beautiful sliced ham with a great balance of flavours - sweet and salty. It was visually appealing with a lovely dark rind and great meaty texture," judge, Grimes said.
Pokeno Bacon owners, John and Helen Clotworthy, said they couldn't wait to share the good news about their products.
"This is just further testament to our team's dedication to quality and the pride Pokeno Bacon takes in our products," they said in a statement.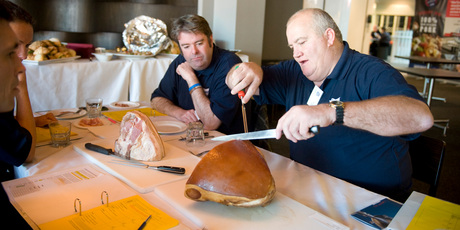 Winners:
100% New Zealand Ham of the Year
Chris Beach, Cattermoles Butchery, Kaiapoi, Canterbury.
100% New Zealand Bone-In (ham leg)
Gold: Chris Beach, Cattermoles Butchery, Kaiapoi, Canterbury.
Silver: Helen and John Clotworthy, Pokeno Backon, Pukekohe, Auckland.
Bronze: Tui Duigan and George Turnball, Murchison Meats, Murchison.
100% New Zealand Boneless (sliced ham)
Gold: Helen and John Clotworthy, Pokeno Bacon, Pukekohe, Auckland.
Gold: Gus and Sue Morton, Waitaki Bacon & Ham Ltd, Oamaru.
Silver: Rob Cameron and Simon Harrison, Cameron Harrison, Wellington.
Bronze: Colin and Sonia Drever, Col's Butchery & Deli, Mt Maunganui.
Cook up a storm: Food Hub's top five ham recipes
• Grilled ham and peach salad.
• Ham, pea and basil fritters.
• Ham, asparagus and dill pasta.
• Grilled ham and fig pizza.
• Ham and brie quiche.
Follow Life & Style Online on Twitter here. Follow Life & Style Editor Nicky Park on Twitter and Instagram.
- www.nzherald.co.nz