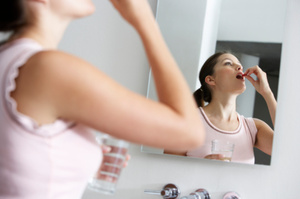 Women diagnosed with invasive breast cancer are less likely to die of the disease if they regularly consume a vitamin and mineral tablet, compared with women who don't take supplements, scientists have found in one of the largest studies of its kind.
Questions regarding vitamin use have pervaded scientific research for decades: Do supplements protect health? Do they impart only minuscule effects? Can they cause harm?
Dr Sylvia Wassertheil-Smoller and colleagues at Albert Einstein College of Medicine in the Bronx analysed a colossal amount of statistical data to unearth their answer.
Studying the fates of older women participating in two massive studies - the Women's Health Initiative Clinical Trials and the Women's Health Initiative Observational Study - researchers uncovered a 30 per cent lower mortality rate among those who regularly consumed vitamin and mineral tablets. All told, 161,608 women participated in the research.
"Our results show that there was a protective effect," says Wassertheil-Smoller, a professor of epidemiology and population health.
"Almost all of these women took a multivitamin before they developed breast cancer," she adds.
"So it's not like we're saying that once you get breast cancer, you should take multivitamins."
Among participants, 7728 developed invasive breast cancer, defined as a tumour that invades surrounding tissue. Nearly 40 per cent of women diagnosed with invasive disease were vitamin takers, the study showed. Participants' ages ranged between 50 and 79.
Dr Janice Lu, director of medical oncology at Stony Brook University Hospital, who specialises in breast cancer, says the findings are intriguing because they echo results involving vitamin D research.
"This is very similar to a report on vitamin D, which was found to lower the risk of (a breast cancer) recurrence," Lu says.
"We always tell our patients to maintain their vitamin D level and when it's low, we tell them they have to bring it up."
Yet, even in the face of an apparent protective effect, no one fully understands how vitamin D guards against recurrence, Lu said.
Similar unknowns pervade Wassertheil-Smoller's study, which is published in the current issue of Breast Cancer Research and Treatment. Her analysis was not a clinical trial, but an epidemiological investigation. Clinical results are needed to qualify as proof. Further, there was no specific vitamin formulation that women took.
Last year, older men who received vitamins in a large study - a clinical trial - experienced an eight per cent lower rate of most forms of cancer. Participants took Pfizer's Centrum Silver or a lookalike placebo. Curiously, there was no reduction in prostate cancer, the most common malignancy in older men.
The new women's results also fly in the face of the Iowa Women's study, which two years ago found that older women who took a daily vitamin supplement had an increased risk of dying of cardiovascular disease and cancer.
"Our study was different," Wassertheil-Smoller says.
"The Iowa study was about all cancer incidences in generally healthy women. This is about women who already have breast cancer."
- SNS