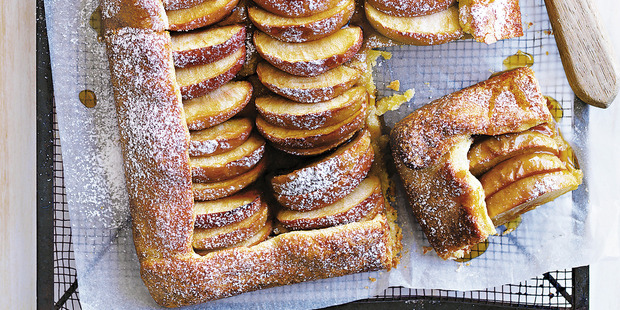 Apple, maple and almond tart. Photo / Donna Hay Magazine
Serves 6-8
• 1 x quantity vanilla pastry
• ½ cup ground almonds
• ¼ cup caster sugar
• 4 pink lady apples, cored
• ¼ cup maple syrup, plus extra, to serve
• 1 egg white, for brushing
• 1 Tbsp white sugar
• Icing sugar, for dusting


1. Preheat oven to 180C. Roll out the pastry between 2 sheets of non-stick baking paper to form a rough 30cm x 40cm rectangle. Refrigerate dough for 10-15 minutes or until firm enough to handle.
2. Place on a baking tray and remove the top sheet of baking paper from the dough. Mix to combine the ground almonds and caster sugar and sprinkle over the dough, leaving a 4cm border.
3. Cut the apples into quarters and each quarter into 4 slices. Place the apple and maple syrup in a bowl and toss to combine. Layer the apple over the almond mixture, fold in the edges of the pastry and brush with egg white.
4. Sprinkle the tart with white sugar and bake for 35-40 minutes or until cooked through and golden. Dust with icing sugar and drizzle with the extra maple syrup to serve.